Middle Eastern air transport activity has recovered more sharply than expected post-pandemic, Boeing's sales chief for the region believes, with Saudi Arabia becoming a particular focal point.
Boeing's latest commercial market outlook shows demand for 3,025 aircraft in the Middle East over the next 20 years.
This figure includes 1,350 widebodies. The Middle East will have the lowest ratio of single-aisle to widebody deliveries of any region – just 1.2.
Saudi Arabian carriers Saudia and Riyadh Air underscored the widebody demand earlier this year as each placed orders for 39 Boeing 787s.
Speaking during the Arab Air Carriers Organization conference in Riyadh, Boeing's vice-president of commercial sales and marketing for the Middle East, Omar Arekat, said: "It's a very exciting time. There's a paradigm shift in the region and Saudi Arabia in particular."
He highlights such aspects as the simplification of visa processes, along with the demand that has made booking a flight to Riyadh more "difficult", adding: "It's really becoming a destination."
Saudi Arabia handles large quantities of pilgrimage traffic but the government is driving an initiative to generate tourism through its Vision 2030 programme.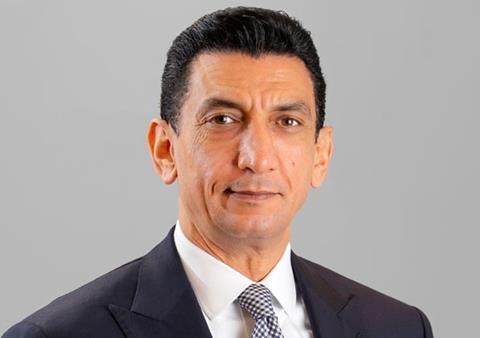 Arekat believes Boeing has an advantage in the region, because it has had strong aviation ties with Saudi Arabia – both commercial and defence – for some seven decades.
"We look at Saudi with more strategic depth," he says. "It allows us to be involved more in the set-up of infrastructure. We're major partners for the kingdom."
While Saudi Arabia's development programme is particularly ambitious, the Middle East region in general is experiencing a strong recovery surge, Arekat says, defying expectations over the length of time it might take.
"Demand has exceeded the projected recovery plan," he says. "I think a lot of airlines didn't see a fast recovery coming."
Operators in the region are "very resilient", he adds. Air travel in the Middle East is particularly important and, although the region has specific challenges, there is a "lot of activity".
"We're watching the market in the Gulf region grow and get brands on the map," says Arekat. "For a country to promote its brand, it needs to have a good airline."
Arekat believes the widebody demand in the Middle East over the next 20 years, similar to that for China and Eurasia, is advantageous to Boeing, which has substantial widebody presence among the major Gulf airlines as well as smaller operators.
He says 80% of the world population is reachable from the Middle East. "The nature of carriers [here] is to serve as connectors, and they need widebodies," he says.
But he stresses that securing fleet orders in the area has "always been a competition – we've had to compete really hard to win campaigns".