SAS is to offer passengers the chance of reserving seats on its inaugural commercial services of the Heart Aerospace ES-30 hybrid-electric aircraft, despite the milestone being five years away and with most of the important flight details still vague.
Reservations for the flights, expected to take place in 2028, will open on 2 June. In total, 90 seats will be available to domestic customers, covering three inaugural ES-30 services from the Scandinavian carrier's home nations Denmark, Norway and Sweden.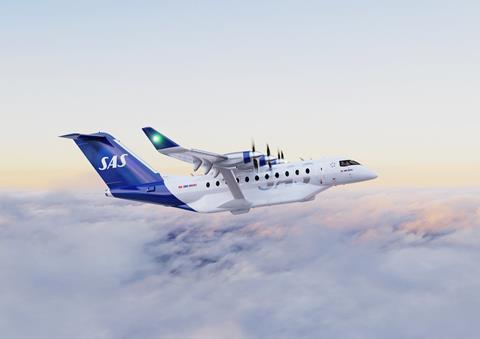 But there is precious little detail about the flights, save for the SKr1,946 ($178) cost: the departure location, destination and even dates will only be revealed later, the airline says.
However, given the importance SAS is attaching to the event, it is likely the services will depart from airports in capital cities Copenhagen, Oslo and Stockholm.
SAS has yet to firm up its letter of intent for an undisclosed number of ES-30s – chief executive Anko van der Werff previously indicated the carrier would take "at least two" units. The carrier is also a member of Heart's customer advisory panel.
Although SAS is billing the services as "its first-ever commercial electric flight[s]" in the countries, it is also unclear whether the ES-30s will operate in full-electric or hybrid-electric mode.
Using just battery power and with a full load of 30 passengers, the ES-30 will be able to fly just 108nm (200km) – well under the 215nm distance separating Stockholm Arlanda and Heart's home in Gothenburg.
But in a happy coincidence, Heart says the ES-30's range in hybrid-electric mode will be that exact distance.
Prospective passengers will not be charged for the reservation, but will need to pay the outstanding balance – the same figure in Danish, Norwegian or Swedish currency – 30 days prior to the departure date; the 1,946 flight cost was chosen to mark the year of the carrier's founding.
SAS says it has launched the offer now to highlight its decarbonisation efforts: "We are looking to engage with customers and highlight that this timeline is shorter than you might think – it's not decades away."
It is confident the 90 seats will snapped up quickly: "People are normally quite interested in turning a page of history," the carrier says.
Certification and service entry for the ES-30 are expected in 2028.

Dominic Perry is deputy editor of Flight International but also contributes extensively to flightglobal.com. Although specialising in the coverage of the helicopter industry, he has written on most topics in aerospace – be they commercial, defence or business aviation. In addition, there has been an increasing focus on the decarbonisation of the industry and zero-emission flight initiatives.
View full Profile