Analysis of Airbus backlog data over the year since the onset of the air transport crisis shows the airframer's overall orders fell during the period, an extraordinary contrast to its strong annual performances over the previous decade.
Airbus's order total had risen each year by an average of over 1,000 aircraft from the end of March 2011 to the end of March 2020, the point at which the pandemic started to generate serious disruption to international air travel.
But its latest backlog data shows that in the subsequent 12 months, to the end of March 2021, order activity not only stopped its upward surge but actually reversed, with the overall order total slipping from 20,398 to 20,315.
This reduction of 83 aircraft resulted from 210 cancellations only being partly offset by 127 additional orders.
Total long-haul aircraft orders were down by 26 – comprising 17 A350s and nine A330s – while those for short-haul jets fell by 57.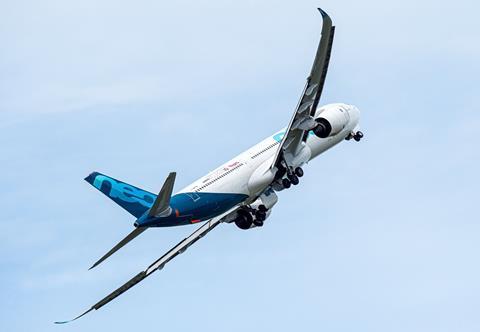 But the performance of individual models in the short-haul range varied. The A321neo, which has proven a popular variant, increased its net total by 46 aircraft – possibly aided by upward conversions from the A320neo, whose order level fell by 98.
The A220-300 also generated a small net gain in orders over the 12-month period.
Analysis of the main cancellations shows 88 are attributed to Scandinavian budget carrier Norwegian, 17 to lessor BOC Aviation, 10 to each of Gulf Air and AirAsia X, and six for Turkish Airlines, while another 56 were classified as undisclosed.
Chinese operators and lessors had a strong presence among customers whose orders increased over the year.
Eleven Chinese carriers – among them Air China, China Southern Airlines, China Eastern Airlines, Shenzhen Airlines, Qingdao Airlines and Sichuan Airlines – plus lessors ICBC, Bocomm and CMB Leasing are all listed with higher order figures.
The airframer has been managing the impact of the pandemic by cutting production rates and negotiating deferred deliveries to customers, and chief executive Guillaume Faury has pointed out that the company has experienced only a "low number" of cancellations.
Airbus's total order figure of 20,315 at the end of March 2021 was just over double the level of 10,061 recorded 10 years earlier in March 2011.