Two Irkut SSJ-New twinjets are under construction for flight-testing, as another airframe is assembled for life-cycle tests in Moscow.
The flight-test aircraft are among five airframes being built simultaneously at United Aircraft's facilities.
United Aircraft says the SSJ-New, which will have Aviadvigatel PD-8 engines, will include some 40 domestic systems instead of imported foreign ones, compared with the regular Superjet 100 on which it is based. This is in line with a Russian government import-substitution strategy.
One of the flight-test aircraft is already being equipped with these domestically-produced systems, it adds. Certification and serial production are intended by the end of 2023.
The Central Aerohydrodynamic Institute says installation of the main aerostructures for the static-test SSJ-New is underway at its facility, with personnel from the Irkut plant in Komsomolsk-on-Amur supervising the two-month effort.
Its fuselage will be mated with the empennage, wings, and landing-gear, and weights to simulate engines will be fitted.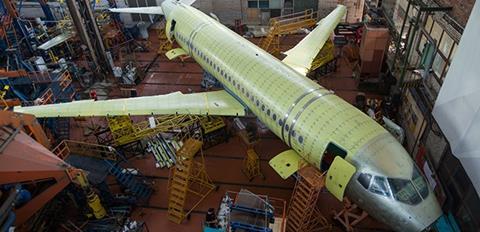 "A very complex test-bench is being created, especially for these tests, allowing simultaneous testing of the pressurised fuselage [and] all the vital components of the aircraft," says the institute.
Once assembled the SSJ-New will be subjected to simulated loads representing all stages of flight, with the airframe's parameters monitored to check compliance with certification criteria.
Institute director general Kirill Sypalo says the overall research effort will take around five years and cover over 100,000 simulated flights.