Oregon company 321 Precision Conversions completed first flight of its Airbus A321-200PCF freighter on 10 October.
The type is a former passenger A321 converted to a freighter capable of carrying 27t of payload.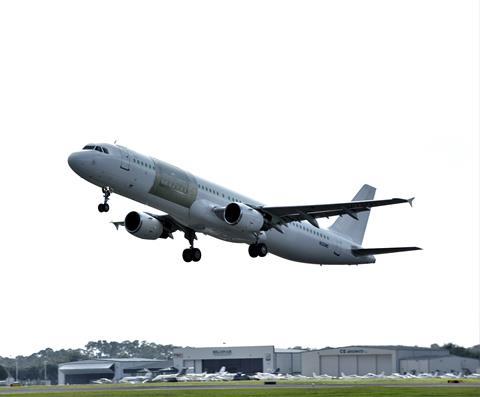 The "maintenance test flight" precedes the start of A321-200PCF regulatory certification flights, a process that Precision Conversions expects to complete with "brisk progression".
Precision Conversions is working toward receiving a supplemental type certificate for the type from the Federal Aviation Administration, and certifications from European and Chinese regulators.
"This milestone flight was nominal in all respects, with all primary and secondary systems – including the cargo door and support sub-systems – functioning perfectly as designed," says Precision Conversions president Gary Warner.
Precision Conversions is a joint venture between aircraft modification specialist Precision Aircraft Solutions, also based in Oregon, and air freight company Air Transport Services Group, based in Ohio.
The A321-PCF conversion includes addition of a hydraulically operated main-deck cargo door and a main-deck cargo loading system. The type has a reinforced floor and plugged windows.
The conversion allows the A321 to carry up to 14 containers measuring 2.2 x 3.2m (88 x 125in) on its main deck, and 10 smaller containers on its lower deck.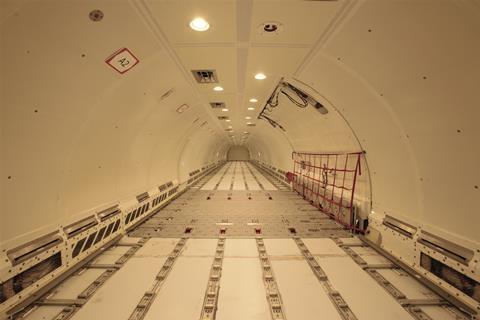 Precision Conversions has said the jet's capacity will be similar to that of Boeing 757-200Fs, with costs comparable to 737Fs.
Several other companies are also developing converted A321 freighters.
Those include Elbe Flugzeugwerke, a joint venture between Airbus and ST Engineering that developed the A321P2F. European regulators granted that jet a supplement type certificate in February.
San Diego-based PacAvi International launched a converted A321F in 2014.
Story updated on 13 October to note the date of the first flight.