Aircraft conversion shop 321 Precision Conversions is close to delivering its first Airbus A321 converted freighter, and plans to begin work on a second conversion in June.
The pending delivery follows 321's announcement in late April that the Federal Aviation Administration had approved its "A321-200PCF" converted freighter, issuing a supplemental type certificate.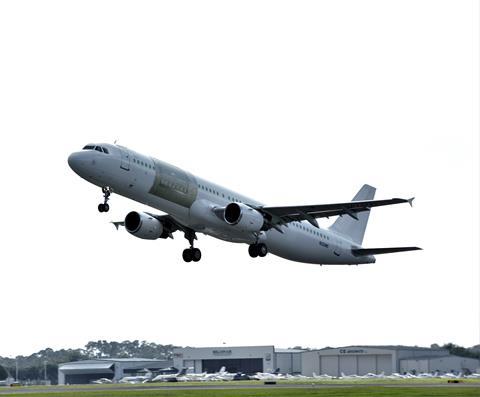 The first aircraft is "currently in the re-delivery process" and will soon be turned over to the first operator, SmartLynx Airlines Malta, says 321 co-owner Precision Aircraft Solutions.
Precision Aircraft, based in Oregon, formed 321 in partnership with Air Transport Services Group (ATSG), a US air cargo and aircraft services company.
Luxembourg company Vallair Solutions is leasing the first A321-200PCF to SmartLynx.
Precision says conversion of a second A321 will begin in June, followed by a third in July or August.
321 owns the A321-200PCF supplemental type certificate, manufacturers the freighter's cargo door and supports the conversion process, it says.
ATSG subsidiary Pemco, an MRO shop, will perform the physical work of converting A321s into A321-200PCFs.
Another company called Elbe Flugzeugwerke, a joint venture between Airbus and ST Engineering, developed a competing A321 converted freighter called the A321P2F. European regulators granted that jet a supplement type certificate in February.