Regional turboprop manufacturer ATR is in discussions with its joint shareholders Airbus and Leonardo over plans to develop low-emission technologies on the aircraft and hopes by early 2021 to have identified a future strategy.
ATR chief executive Stefano Bortoli tells FlightGlobal that talks with its owners are ongoing "so they could consider ATR as a platform on which new technologies could be introduced".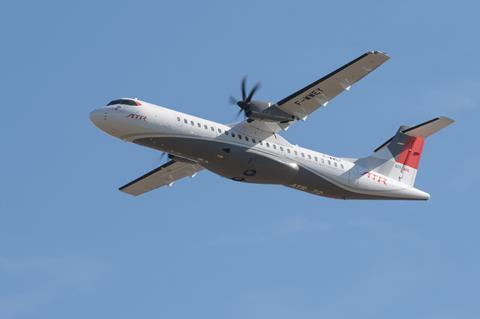 Airbus in particular has in recent weeks been vocal about the need to decarbonise aviation and last month unveiled design concepts for a trio of hydrogen-powered aircraft.
Bortoli believes the twin-turboprop ATR 42 and 72 are ideal platforms on which to trial new technologies, likely some form of hybrid-electric propulsion.
"There are a number of solutions we have explored so far that we have reviewed with our engineering department and I think we see a hybrid aircraft as a solution – then it is a matter of what hybrid mean in terms of different elements."
While he says it is "too early to say" what fuel would be used on such an aircraft, "we believe the ATR has the dimensions and size as a platform to be considered as the right platform to test future concepts to reduce emissions or come to a zero-emission aircraft".
Bortoli hopes that a "way forward" can be agreed by the shareholders "by the beginning of 2021".
Launching its support package for aviation in June, the French government identified the development of a "decarbonised regional aircraft" – for service entry in 2035 – as a project which would attract funding support.
However, despite its Toulouse headquarters, ATR is not "100% French" says Bortoli, and while the airframer's shareholder is discussing how it could join that effort "for the time being we cannot confirm or deny direct participation in such a plan".
In addition, ATR is working with long-term customer Air New Zealand to identify what changes would be required to an airline's operations, such as maintenance or training, to facilitate the uptake of new propulsion technologies.
Current ATR aircraft are powered by Pratt & Whitney Canada PW127M engines.