Embraer has again shifted the scope of its Energia project, extending the size of the conceptual aircraft under consideration up to 50 seats.
While not as dramatic a change as last year, when the airframer announced a focus on hybrid- and fuel cell-powered aircraft in the 19-30-seat class, shelving any immediate interest in electric and hydrogen combustion powertrains, the move is still significant.
Last year's decision was based on operator feedback and continued dialogue with the Energia customer advisory panel has helped to further refine the concept, says Rodrigo Silva e Souza, vice-president of sales and marketing at Embraer Commercial Aviation.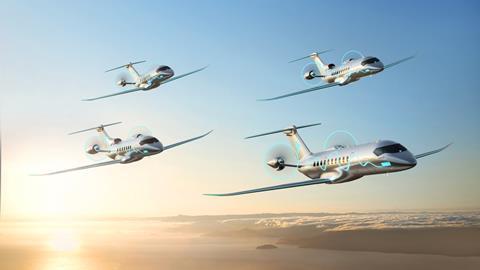 "We are looking at bigger capacity. We started with from nine up to 50 seats then we concentrated on 19 to 30 seats last year and through this year we are looking at a bit bigger, up to 50 seats."
The move was "primarily driven" by airline feedback that they wanted "bigger aircraft", he says, "but we also see the technology being able to support that.
"Our understanding of the technology has progressed," he says. "But the biggest challenge is to understand how this aircraft will be used and that's the work we have been doing with airlines, trying to understand where these would fit into their network."
Arjan Meijer, chief executive of Embraer Commercial Aviation, says the airframer needs to analyse "if there is a good business case for airlines" and "what is technologically feasible" before any product launch.
"We need to be absolutely sure that it works. But once we make up our mind that it does, we have shown we can come to the market quickly."
Feedback has been positive to date, says Silva, but he sees a need to revitalise the sub-50-seat market to ensure the viability of any future aircraft.
Embraer intends to present its latest updates to the advisory board at the end of this month and will also add new members in the coming months, he adds.
It sees the potential for the hybrid-electric aircraft to arrive in the 2030 timeframe, followed by the fuel cell-powered version in 2035.
Earlier this decade Embraer had explored the possibility of launching a next-generation turboprop airliner, but the project faltered due to the lack of a suitable engine that would offer a game-changing reduction in fuel burn.
"We consistently said we wanted to launch this [turboprop] aircraft before the end of the decade to give us sufficient runway," says Meijer.
"You now see us more focussed on the Energia side, looking at bigger capacities there and bringing truly green solutions to the market."
Launched in 2021, the Energia project initially comprised four low- or zero-emission aircraft concepts: two nine-passenger aircraft (one hybrid-electric, one all-electric), one 19-seater powered by hydrogen fuel cells, and one powered by hydrogen-burning turbine engines to carry 35-50 passengers.