Honda Aircraft's HondaJet Elite II has touched down at EBACE, marking the updated variant's debut at the European show following its launch by the airframer last year.
The North Carolina-based manufacturer expects to soon receive certification for the enhancements from the European Union Aviation Safety Agency, having obtained validation from the US Federal Aviation Administration last November.
"The HondaJet Elite II continues our dedication to exceeding the expectations of customers worldwide by setting new standards in performance, efficiency and comfort for the future of very light jets," says Honda Aircraft chief executive Hideto Yamasaki.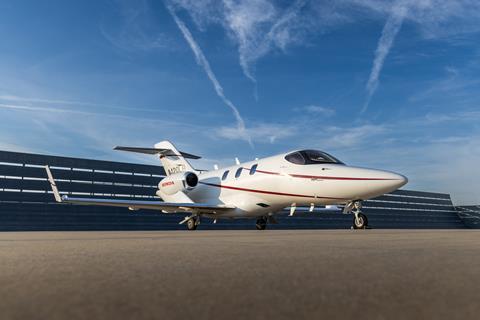 "Debuting our latest aircraft at EBACE marks an important milestone for everyone at Honda Aircraft," he adds.
HondaJet's update to the light jet gives the type more range and a series of cockpit tweaks, including the addition of auto-throttle and auto-land capabilities.
A bump in fuel capacity brings the Elite II's range to 1,547nm (2,865km) with four people aboard – 110nm more than the previous HondaJet Elite S – while maximum take-off weight jumps to 5,035kg (11,100lb), up from 4,940kg.
"The Elite II bolsters the HondaJet's position as the most fuel-efficient jet, flying farther than any other aircraft in its class and with lower carbon emissions," the company says.
The HondaJet can carry up to seven passengers and is powered by twin over-wing GE Honda Aero Engines HF-120s, each delivering about 2,050lb (9.1kN)-thrust. It can cruise at 422kt (782km/h) and reach altitudes of 43,000ft.