Boeing's ability to meet its 2023 delivery and production goals is more uncertain after it revealed on 13 April having halted some 737 deliveries due to a newly disclosed quality problem.
Some analysts are optimistic that the new issue, which involves "non-conforming" fuselage components, will have minimal impact. Others think Boeing's targets are now a real stretch.
But much remains unclear. Observers wonder if many 737 Max now plying the world's skies might have affected components. And if they do, the broader impact will depend on how regulators address any concern.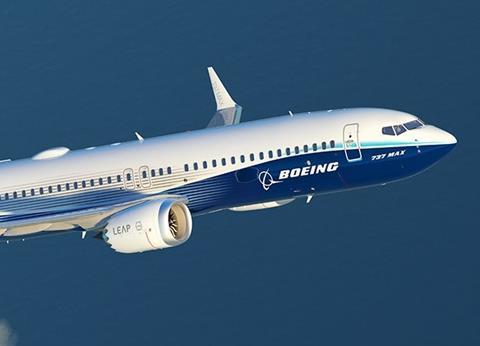 "Production should not be too affected," says Michel Merluzeau, aerospace analyst with consultancy AIR. "We remain confident that the production numbers are going to be hit. Deliveries [are] a little more fluid at this point."
"It will be challenging for Boeing to hit its 2023 [737 Max] delivery target," says BofA Securities analyst Ron Epstein in a 14 April research note.
Boeing on 13 April said it stopped "a significant number" of 737 deliveries due to an issue involving aft fuselage fittings on 737 Max 7s, Max 8s, Max 8-200s and 737NG-based P-8 military surveillance jets.
"This is not an immediate safety-of-flight issue and the in-service fleet can continue operating safely," Boeing says.
The issue affects jets now in production and those in storage (Boeing had stored hundreds of aircraft that it produced but did not deliver during the Max's grounding, which ended in November 2020).
Deliveries of 737 Max 9s are not impacted by the problem, according to Boeing.
"We have notified the [Federal Aviation Administration] of the issue and are working to conduct inspections and replace the non-conforming fittings where necessary," the company says. "We expect lower near-term 737 Max deliveries while this required work is completed."
Boeing has not specified how many aircraft are impacted or how long it might need to address it issue, leaving observers guessing.
The company aimed to deliver 400-450 737s this year – about 33-38 monthly. That would be up from the 387 deliveries in 2022.
The company has also said its 737 Max production system has been running at rate of 31 jets monthly.
Until recently, Boeing had been making significant progress toward hitting its numbers, delivering 113 737s in the first quarter, including 53 in March – more than in any month in several years.
"We believe that our assumption that Boeing will deliver 410 737s in 2023 remains achievable notwithstanding this new issue," Moody's Investors Service senior vice-president Jonathan Root says on 14 April. "Repairs to aircraft in service will occur in the future and will increase warranty claims against Boeing."
But investment bank Jefferies suspects the issue will reduce Boeing's 2023 737 Max deliveries by 20%, it says in a 14 April note. Jefferies had estimated Boeing would deliver 425 Max this year – 20% less comes to 340 deliveries, well short of Boeing's goal.
Analysts wonder just how significant the issue is. The big question: how many jets are affected?
"This issue is impacting a significant portion of the deliveries" since after regulators lifted the Max's grounding, Epstein's research note says. "To put this into perspective, almost 690 [737 Max 8s] currently in-service or parked have been built since 2019."
"Given that the manufacturing non-conformity is in a structurally vulnerable place, quite literally where the vertical tail attaches to the fuselage, we expect inspections and fixes to take a meaningful amount of time and intense FAA scrutiny," Epstein says. "Ultimately, this may result in required fixes for the in-service fleet as well."
Boeing says the quality issue involves "a non-standard manufacturing process… during the installation of two fittings in the aft fuselage section" of affected 737s.
The components may not conform to specifications, it says.
Spirit AeroSystems confirms it supplied Boeing with the fittings, which reportedly secure 737 vertical stabilisers. "Spirit is working to develop an inspection and repair for the affected fuselages," it says.
The FAA says it "validated [Boeing's] assessment that there is no immediate safety issue. The FAA is in close communication with Boeing and will continue to evaluate all new affected airplanes prior to delivery".