A group of aviation companies and nonprofit groups have partnered to establish an air taxi "corridor" between the Upstate New York city of Syracuse and the Montreal suburb of Mirabel.
The partners, which include Canadian air taxi landing-site developer VPorts, have agreed to study and develop infrastructure needed to enable electric vertical take-off and landing (eVTOL) aircraft to fly between the cities, a distance of about 200 miles (322km), VPorts says on 29 November.
Such aircraft are not yet certificated by aviation regulators, but several companies are aiming to achieve that milestone in the coming years.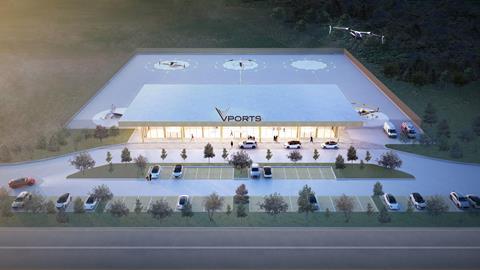 VPorts and its partners aim to conduct "eVTOL aircraft test flights" on the route in 2023. The corridor will connect a VPorts' landing site (which it calls a "vertiport") in Mirabel and the Syracuse Hancock International airport.
Those partners include the Syracuse airport, Canadian helicopter operator Helijet International, Montreal technology consultancy Innovitech, NUAIR, which operates an unmanned aircraft test site in New York, and Quebec trade groups Aero Montreal and Unmanned Aerial System Centre of Excellence.
"The aim of the corridors is to build an [advanced air mobility] ecosystem that will provide a platform for full commercial cargo transport operations using eVTOLs," says VPorts president Fethi Chebil.
He says the partners will study various aspects of electric air taxi operations, including "goods transportation, charging readiness, stakeholder management, business cases, security and safety protocols, social acceptability and urban integration of infrastructure and operations".
New of the plan comes after New York governor Kathy Hochul in October said New York state will spend an additional $21 million to support development of infrastructure for urban air mobility – a term generally meaning air transport over short distances using a new-generation of small aircraft, including air taxis.
VPorts made news in September when it disclosed plans to develop a network of air taxi landing sites throughout Quebec.