Papua New Guinea carrier Air Niugini has formalised its commitments for 11 Airbus A220s, including a direct order with the airframer for six examples.
The airline will get six A220-100s directly from Airbus, says the airframer. In addition, it will obtain three A220-300s and another pair of -100s from lessors.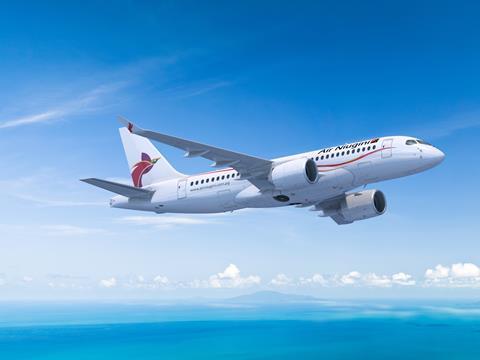 "This is a milestone in the history of our national airline that will support the growth of trade and tourism in Papua New Guinea," says acting chief executive Gary Seddon.
"The new aircraft will offer the highest levels of comfort for our passengers, while also ensuring a significant reduction in fuel consumption and emissions when compared to the aircraft they will replace."
The deal was formerly concluded at an event in Port Moresby attended by Seddon, Airbus's Asia-Pacific head Anand Stanley, and local government officials.
Air Niugini originally announced its intention to obtain 11 A220s in a 16 August Facebook post, saying that he aircraft will arrive from 2025.
The A220s will replace the airline's fleet of Fokker jets. Cirium fleets data shows that Air Niugini has four Fokker 100s and four Fokker 70s in service. It also has three Fokker 100s and two Fokker 70s in storage.
The new Airbus jets are part of an overall fleet modernisation, which also includes an order for two Boeing 787-8s, which the US airframer announced in June.
"Air Niugini has seen how much more the A220 brings to their airline than the competing product in this space, so much more efficiency, range, comfort and growth potential," says Airbus chief commercial officer Christian Scherer.
"We thank Air Niugini for its confidence in Airbus and are committed to offering our full support to the airline as it transitions to its new fleet."