Ukrainian outsize cargo specialist Antonov Airlines is to offer its An-225 for commercial service, to provide additional capacity to the freight sector.
The An-225, with a maximum take-off weight of 640t, is the world's largest operational transport and is intended to complement Antonov Airlines' fleet of seven An-124s.
Antonov Airlines claims there is a "surge" in demand for An-124 capacity, but the global fleet availability for the type is "very limited".
One of Russian carrier Volga-Dnepr's An-124s was badly damaged in an accident at Novosibirsk in mid-November, and the operator subsequently suspended services with the type pending results of the investigation.
Antonov Airlines returned the An-225 – the sole example of the aircraft, registered UR-82060 – to flight earlier this year, following a long period of maintenance and upgrade work, and it was recruited into pandemic-related medical and humanitarian transport work.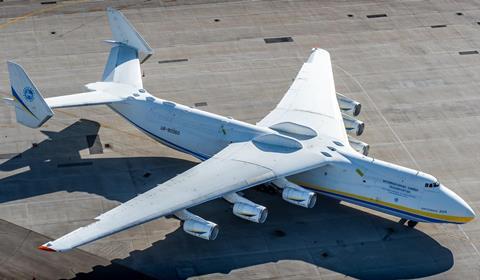 But the carrier says it will place the aircraft in the commercial market, after routine maintenance, to provide extra airlift in the outsize sector.
"We are giving priority to time-critical cargo," says commercial director Andriy Blagovisniy.
"[We are] doing our best to help customers in this difficult situation and support them worldwide."
Developed from the An-124 platform for specialised operations including carriage of the Soviet Union's Buran space shuttle, the An-225 has a stretched fuselage, broader wingspan – accommodating six engines – and a characteristic twin vertical fin.