Canary Islands floatplane start-up Surcar Airlines is intending to use hydrogen-electric engines on De Havilland Twin Otter aircraft.
The company plans to introduce aircraft retrofitted with the ZA600 powertrain developed by propulsion specialist ZeroAvia.
Surcar Airlines is looking to offer inter-island services and sightseeing tours. It will initially use conventionally-powered aircraft but subsequently switch to zero-emission models.
"Climate change threatens [the Canary Islands] and our way of life," says Surcar founder and chief Gerardo Morales-Hierro.
"Working with ZeroAvia will help us to deliver cleaner flights, while also fostering positive impacts on the local community and the environment."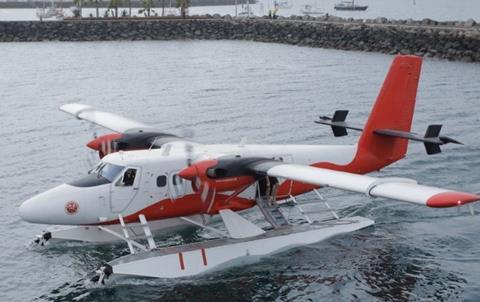 ZeroAvia says it has reached an agreement with Surcar encompassing the plan.
It is developing the ZA600 engine for nine- to 19-seat aircraft and has a memorandum of understanding with De Havilland.
The engine has been undergoing test flights with a Dornier 228 airframe, with a programme of 10 sorties recently completed at Kemble in the UK.
Propulsion is based on hydrogen in fuel cells, which generate electricity to drive electric motors and the propellers.
ZeroAvia chief customer officer James Peck says short Canary Islands hops amount to a "perfect use case" for early zero-emission flights.