China Southern Airlines returned to the black in its nine-month financial results, continuing its streak of profitability since China swung open its international borders and eased pandemic restrictions.
The Guangzhou-based operator was the first among the country's three largest carriers to post an operating profit, though its two other compatriots – Air China and China Eastern Airlines – dramatically cut their losses on a rebound in revenue.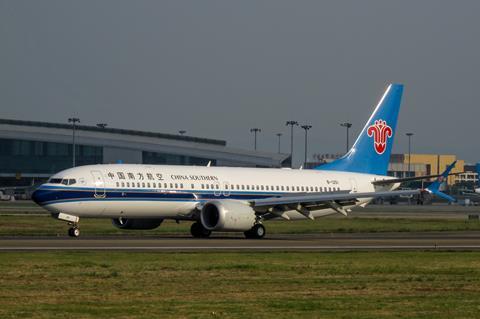 At the same time, China Southern and Air China both posted net profits during the period, reversing their steep net losses incurred during the pandemic period.
For the nine months ended 30 September, China Southern recorded an operating profit of CNY3.64 billion ($497 million), reversing the CNY21.1 billion loss in the year-ago period.
The airline saw a 70% year-on-year increase in operating revenue to CNY119 billion, which outpaced a 27% rise in costs to almost CNY120 billion.
China Southern posted a nine-month net profit of CNY1.3 billion, against the CNY17.6 billion net loss in the previous reporting period.
Compatriot Air China posted an operating loss of around CNY430 million, significantly narrowing from the CNY33.3 billion loss in the year-ago period.
The Star Alliance carrier saw its operating revenue for the nine-month period more than double year on year, to CNY105 billion. Its expenses for the period rose about 45% to CNY112 billion.
Air China attributes the growth in revenue to an "increase in…capacity…driven by the increase in both passenger load factor and price".
The Beijing-based operator reported a net profit of CNY791 million, compared to the CNY28 billion loss a year ago.
As for China Eastern, it was CNY3.2 billion in the red at the operating level. This compares to the CNY30 billion loss recorded in the same period last year.
Like its compatriots, the Shanghai-based airline saw revenues more than double year on year, to CNY85.5 billion, amid a return in passenger traffic. Meanwhile, operating costs rose close to 36% to CNY92.5 billion.
China Eastern reported a net loss of CNY2.6 billion, narrowing from the year-ago's CNY29.9 billion loss.