The coronavirus crisis will reduce the overall output of carbon emissions from Europe's airlines, but a desire to cut capital expenditure will delay introduction of new aircraft, weakening unit CO2 performance, according to analysis from HSBC.
"Prior to the pandemic, all airlines were set to improve their unit emissions performance from 2019 to 2023, thanks to fleet renewal and the optimisation of configurations," writes the bank, but it adds that, post-Covid-19, "we expect capital expenditure on new aircraft to be lower than previously envisaged, leading to slower improvement in unit emissions".HSBC notes that the pandemic is prompting the retirement of old, less-efficient aircraft such as Airbus A340s and A380s and Boeing 747s.
However, reduced capex levels are likely to delay the retirement of middle-aged aircraft, raising unit levels of CO2.However, the coronavirus crisis may bring other changes that further complicate carriers' emissions. For Europe's three largest airline groups, IAG, Air France-KLM and Lufthansa, HSBC believes that corporate travel will reduce sharply, encouraging them to cut the premium share of seats. The resulting higher density will act to improve per-unit emissions, and could be enough to completely outweigh the impact of slower capex for these carriers.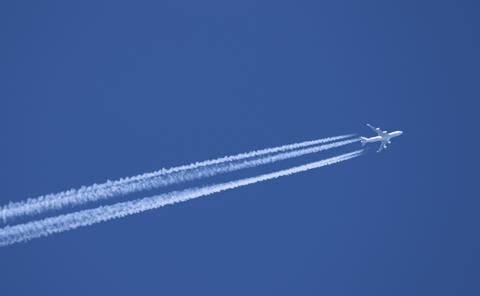 For example, HSBC expects IAG's 2023 emissions per available seat-kilometre to be 86.6g of CO2, against a pre-Covid-19 estimate of 85.2 and the current level of 95.9. But if the carrier pulls back from premium seats, it could be as low as 79.4 by 2023.
Out of Europe's three largest low-cost carriers – EasyJet, Ryanair and Wizz Air – EasyJet currently has the highest CO2 emissions per ASK because it operates the smallest aircraft, while Wizz, operating larger A321s, has the lowest. HSBC expect this distinction to increase, as Ryanair and Wizz are both "planning to push on with their fleet development plans" while EasyJet has deferred 24 on-order aircraft.
EasyJet's CO2 per ASK is seen declining to 80.8g by 2023 from 82.9g currently, although without the pandemic it would have fallen to 79.3g. Wizz's emissions will reduce from 73.1g to 69.4g and Ryanair's from 81.4g to 78.9g, with both airlines seeing a smaller fall in their per unit emissions than had the pandemic not occurred.
Given the impact of the coronavirus on the industry, HSBC expects overall ASKs to be 10-12% lower than they would have been, with the sector as a whole remaining reliant on biofuels and offsetting schemes it if it is to hold emissions to 2019-20 levels, as has been agreed under ICAO's CORSIA programme.