EasyJet is working to cut back its fleet to just over 300 aircraft for 2021, taking advantage of flexibility in its fleet-development agreements.
The airline has 342 Airbus aircraft – of which 215 are owned – comprising 14 A321neos, 206 A320s and A320neos, and 122 A319s.
EasyJet has disclosed that its "contractual minimum" fleet at the end of fiscal 2021 totals 302 aircraft, and the carrier is labelling this as its base case.
The airline, which suffered a £1.27 billion pre-tax loss for the year to 30 September 2020, says it is not intending to take delivery of any aircraft over the 2020-21 financial year.
But it says the reduction to the level of 302 aircraft is "dependent on commercial negotiations currently in progress". The planned figure does not include eight leased jets which the airline will be storing on behalf of their lessors.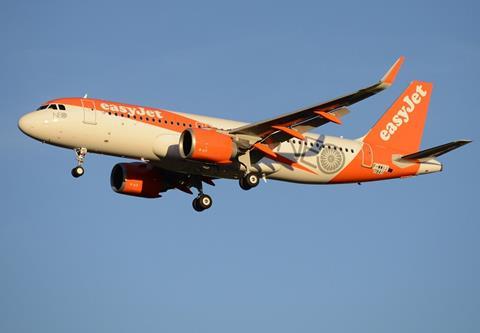 "Our flexible fleet plan allows us to expand or contract the size of the fleet depending upon the demand outlook," the carrier states.
It adds that its plan "excludes any potential opportunistic fleet additions" not included in the base case.
EasyJet is forecasting that deliveries will resume in fiscal 2021-22, with the introduction of eight to 13 aircraft, and another seven to 29 arriving in 2022-23.
It says it has 31% flexibility between the maximum and minimum fleet scenarios up to 2023, with the total number of aircraft by this point ranging from 272 to 356.
EasyJet's fleet over the year to 30 September increased by a net 11 aircraft, with the arrival of eight A321neos and six A320neos, and the shedding of three A319s.
It has delivery commitments for 85 A320neos and 16 A321neos, plus options and rights on 78 additional aircraft.