UK-based freight operator CargoLogicAir turned around heavy losses to post a full-year pre-tax profit of $41.2 million for 2020 – a year in which it underwent a management overhaul and a strategic review of its business.
CargoLogicAir, which has ties to Russia's Volga-Dnepr Group, generated a net profit of $45.4 million in 2020, contrasting with the $39.7 million loss in 2019.
The airline revamped its senior leadership team – bringing in a new chief executive and chief operating officer – in the first quarter of last year, and voluntarily suspended operations to undertake a review and restructure its business.
CargoLogicAir reduced its fleet from four to two Boeing 747-400 freighters as part of the adjustment. Over the course of 2020 it generated $149 million in revenues, about 6% down on 2019, but crucially slashed its costs by nearly half.
Its resumption of services coincided with outbreak of the pandemic, and the surge in demand for cargo transport capacity for shipping medical supplies, which meant it avoided having to furlough personnel.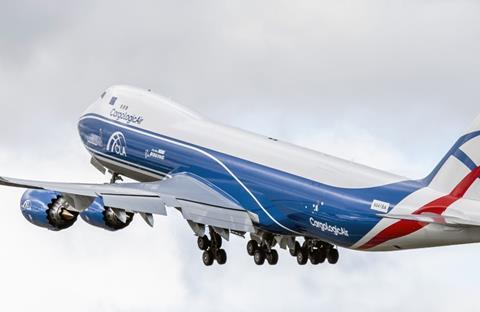 CargoLogicAir also embarked on charter programmes following the decline in passenger aircraft hold capacity and opened transatlantic services from Europe to the USA. It is also looking to establish stronger route links with China.
The company says it expects operations for the healthcare sector to be one of its "key business priorities", adding that it will seek to "avoid all business related to war" in favour of "humanitarian-related opportunities".
CargoLogicAir says it will form strategic partnership with a belly-freight operator, to capitalise on routes to South America and Africa, but plans to "revisit" its own fleet size to ensure it is prepared for greater activity.
"With an increase in demand for business, the company's growth ambitions have been reconsidered," it says. "The company is now keen to develop its unique and oversize capabilities."
It points out that its 747 freighter occupies a "niche" which "cannot readily be substituted" by smaller cargo types, giving the operator competitive "resilience".
CargoLogicAir acknowledges that the UK's withdrawal from the European Union has forced it to adjust its network to mitigate the loss of fifth-freedom rights, introducing UK legs to offset the inability to depart from the EU.
But it says it will leverage its "unique" position as the only UK-based all-cargo airline operating widebody aircraft.
"This will help [us] to continue to develop strong customer relationships underpinned by a route network that is focused on serving and meeting the needs of UK exports and imports," it adds.