Ryanair has cut its full-year activity forecast after tighter travel restrictions in the UK threatened to limit its passenger numbers over its fiscal fourth quarter.
The airline expects to have transported 26-30 million passengers by the end of the year, compared with its previous forecast of up to 35 million.
Ryanair says lockdown measures in the UK and Ireland, as well as a small number of European Union countries, will "materially reduce" its schedules up to the end of March 2021, the end of its fiscal year.
It believes January passenger numbers will fall below 1.25 million and that the measures will limit figures to just 500,000 in both February and March.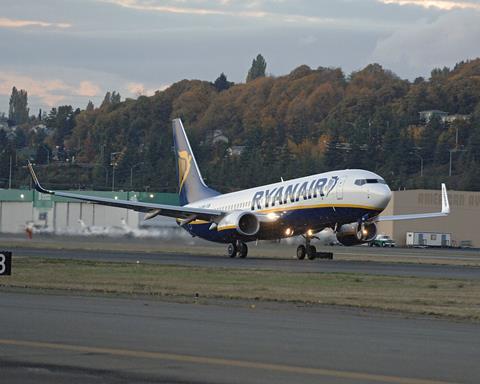 Ryanair will "significantly cut" its flight capacity from 21 January, with "few, if any" services being operated to and from Ireland and the UK from the end of the month.
"Many of these flights would have been loss-making," it says, adding that the decision to cut the schedule is unlikely to affect significantly its full-year net loss.
Ryanair is condemning the "draconian" restrictions, insisting that the UK and Irish governments should be accelerating the "slow pace" of vaccination, to protect citizens from the coronavirus outbreak, instead of resorting to lockdown procedures.