South Africa's government is urging creditors and unions to support South African Airways' proposed rescue, warning that the airline's liquidation is the worse of the options available.
But the opposition Democratic Alliance believes the country's treasury, which is having to cope with funding pressures from the coronavirus crisis, is reluctant to continue bailing out the troubled airline as part of any rescue.
The government's department of public enterprises has been backing a rescue plan on which creditors are set to vote on 14 July.
Liquidation, it says, would be "protracted and costly" and will "lead to financial hardship" for employees as well as a "substantial undervaluation" of the airline's assets.
"All SAA stakeholders…should realise that business rescue provides a better outcome than liquidation and should be supported for their collective interests," it adds.
The department argues that a rescue is a "viable alternative" which supports job preservation and can "bring the airline back from the brink".
"Transformation of SAA into a competitive airline will unfortunately require sacrifices and a major restructuring, starting on a conservative basis and gradually and systematically building up over the next three years," it says.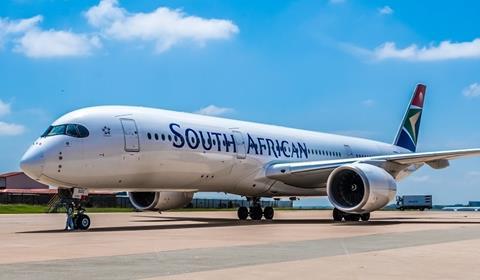 But the treasury outlined South Africa's financial pressures during a joint meeting, on 3 July, between the parliamentary standing and select committees on finance.
"Higher government spending and borrowing has not led to higher growth in many years," it stated.
"We should not confuse people's desire to lend us money with our ability to pay it back."
The treasury added that it considered the government has a choice between a "looming debt spiral or fundamental reform - and no other option exists".
South Africa's political opposition, the Democratic Alliance, is accusing the department of public enterprises of misleading the public into believing that funds for SAA's rescue have been budgeted, stating that an emergency budget last month "did not make any provision" for SAA funding.
It says the rescue plan requires R33 billion in funding for three years but offers "no guarantee", despite projections, that the rescued airline - which the party is describing as a "dead duck vanity project" - will become profitable in its fourth year.