Scandinavian operator SAS has concluded its negotiations with lessors under its US Chapter 11 restructuring, having reached agreements with two more.
SAS says its overall leasing renegotiation has resulted in new agreements with 15 lessors – the latest being Air Lease and Jackson Square Aviation – and covers a total of 59 aircraft.
These aircraft comprise seven long-haul and 52 single-aisle jets.
SAS expects that the fleet reconfiguration means it will have 134 aircraft. Twenty-two of these aircraft will be owned by the carrier, another 77 will be under financing arrangements, and the other 35 contracted through third parties.
The company says it expects to achieve its annual savings target through reduced lease costs of SKr1 billion ($96 million) following the lessor amendments, which are awaiting court approval.
Leasing costs have been a particular focus of the 'SAS Forward' restructuring programme, after SAS entered the Chapter 11 process in July last year.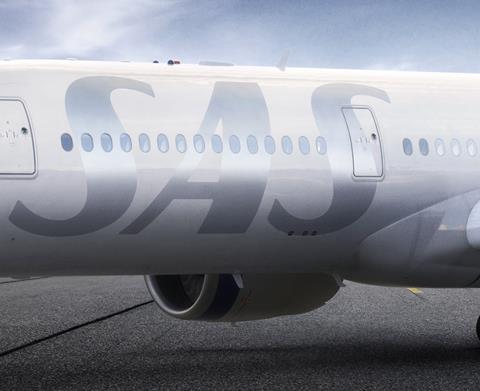 SAS chief executive Anko van der Werff says the company has "concluded negotiations" with its lessors, and that this "constitutes important progress" in reaching the overall financial aims of the re-organisation.
The company is intending to achieve annual cost reductions of SKr7.5 billion by fiscal 2026 against the 2019 baseline.
"We are grateful to our lessors for working constructively with us," adds van der Werff. "We continue making progress in our transformation journey and in becoming a more competitive airline."