TUI Group has reported its first fiscal third-quarter profit since the Covid-19 pandemic, supported by strong demand and high prices in a European peak holiday season that has since been marked by heatwaves and widespread coverage of wildfires in Rhodes.
Outlining its results for the April-June quarter and its positive outlook for the rest of the summer on 9 August, the group acknowledged minor negative impacts on bookings from extremely high temperatures in Europe and the recent wildfires in Rhodes – which will add €25 million ($27 million) to full-year costs, following a repatriation effort on the Greek island – but remained relaxed about shifting travel habits in response to climate change, saying developments could bring more opportunities than risks for TUI.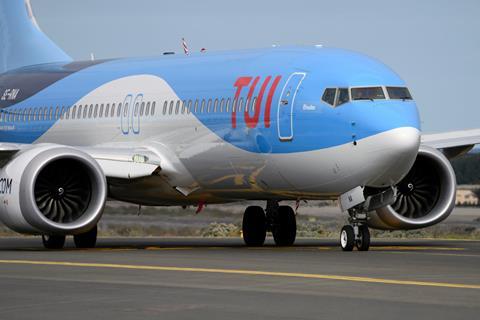 Speaking during an earnings call, TUI Group chief executive Sebastian Ebel suggested one consequence of warmer weather and heatwaves is a "prolongation of the season", meaning the peak travel period starts earlier and finishes later. TUI is, for example, extending its Greek holiday season through to mid-November.
Ebel says this is not necessarily at the expense of bookings during the high-season months, "because the price-value proposition is really good" and "maybe you suffer one or two days from too much heat, but in the end you can be fairly sure there is great weather".
The group is also looking to offer packages to other destinations, where the weather may be cooler.
"We were so focused on the Mediterranean, we didn't go after opportunities in these other countries," he says of the leisure market gaps the group is seeking to fill.
Among destinations already identified for growth, "we have been very successful in building up Cape Verde – an island in the Atlantic like the Canary Islands with the advantage that the heat is not as high as on the Spanish mainland", Ebel says.
He further cites Portugal "because the Atlantic coast is nice" and also opportunities with less-fashionable beach-holiday destinations, such as the Belgian and Dutch coasts, and the Nordic countries.
Serving the Nordic countries does bring a degree of risk around its unpredictable weather, Ebel admits, but he suggests that TUI would have the flexibility to build up or reduce inventory based on short-term weather forecasts using "dynamic packaging".
His comments came as the European leisure giant said its underlying EBIT of €169 million during its fiscal third quarter represented a swing from a €27 million loss a year earlier.
Revenue of €5.3 billion was up 19% year on year, on bookings up 6% and prices some 7% higher.
The group's Markets & Airlines segment – which includes tour operators and airline units – swung to an underlying EBIT of €6 million, from a €143 million loss a year earlier.
The group continues to guide for a "significant improvement" in underlying EBIT for the full year, with "strong bookings" continuing into the current fiscal fourth quarter.
TUI "significantly reduced" its net debt by €1.1 billion during the third quarter, to €2.2 billion as of 30 June.