Over and over this year, executives at US airlines insisted they were taking steps that would ensure their operations run more smoothly this summer.
They were reacting to pressure to avoid the types of operational meltdowns that were familiar to US air travellers last year.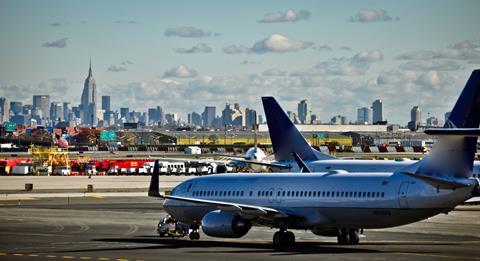 Here is what they said. In April, American Airlines chief executive Robert Isom praised his carrier's "stellar" operational performance in the first quarter (this despite one of every four American flights arriving late in the period, according to government data).
Isom said American would ensure it is "well prepared heading into the summer".
JetBlue Airways CEO Robin Hayes had a similar message in April, saying: "We've made significant progress in building resiliency into our schedule, buffering our operations and continuing to make strategic investments in improving operability."
United Airlines president Brett Hart said the same month: "Our airline is built to run well and recover fast, and we expect our operation to reflect that in the peak summer season."
As recently as 22 June, United reassured the public its operation is ready for this weekend's Independence Day holiday travel surge, crowing about its leading one-time departure rate and saying it had hired 10,000 people this year.
"United's network is built to run well and recover fast, and we expect our operation to reflect that through the peak summer season," the airline said late last week.
It is now clear the carrier chiefs spoke way too soon. The airline collapse in New York in recent days shows business is continuing as usual, but not in a good way.
Flight disruptions started piling up in New York last weekend amid bad weather and, according to United's chief executive Scott Kirby, "failure" by the Federal Aviation Administration's (FAA's) air traffic control (ATC) division.
United, which has a Newark hub, has been particularly shaken, having cancelled 2,900 flights between Monday and midday Friday – excluding those axed by partner airlines, according to FlightAware.com.
A conservative assumption that each of those flights would have carried 150 passengers means 420,000 United customers may have seen their travel plans go up in smoke.
On 29 June, United said it is "seeing continued meaningful improvement".
United is not alone but did account for many of the roughly 6,700 total flight cancellations affecting US airports this week. Carriers including Delta Air Lines, JetBlue and American cancelled hundreds each, data shows.
On multiple days this week, carriers cancelled 40% of all flights at Newark and LaGuardia, according to FlightAware.com.
But why did the system fail so incredibly? Fingers are pointing.
"The FAA frankly failed us," United's Kirby said in a 26 June employee memo, citing ATC staff shortages and inexperience. "The weather we saw in [Newark] is something that the FAA has historically been able to manage without a severe impact on our operations and customers".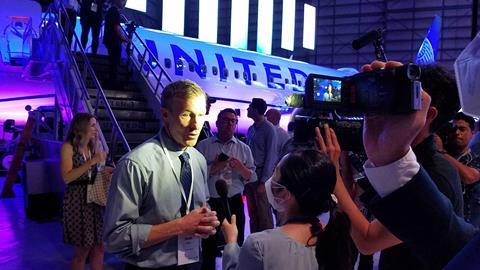 Despite inquiries this week, the FAA has not addressed its role, only releasing a few vague or accusatory statements.
"We will always collaborate with anyone seriously willing to join us to solve a problem," the agency said on 27 June without naming those it thinks are not.
The next day, the FAA added that ATC staffing problems did not contribute to issues on "Monday or Tuesday" – ignoring its role on Saturday and Sunday.
That same day, US Secretary of Transportation Pete Buttigieg denied the FAA is primarily to blame.
"Air traffic control issues are not the number-one issue causing cancellations and delays. They are not even the number two," he told CNN. "United Airlines has some internal issues they need to work through.
"Where we do agree is that there needs to be more resources for air traffic control. That's why we are hiring 1,500 more controllers this year," Buttigieg said.
In a 30 June tweet, the secretary added, "Yesterday, cancellation rates continued to fall as the airspace recovers from severe weather. United's disruptions are elevated but moving in the right direction."
United's pilots accused Kirby this week of "attempting to pin travel disruptions on the FAA".
"Further flight delays are a direct result of poor planning by United Airlines executives," Air Line Pilots Association said on 29 June.
The timing of it all could not be worse, as the Independence Day travel period is under way, with record numbers of people expected to attempt air travel.
Many will undoubtedly be cancelling their plans, though perhaps no-one should be surprised.