US fractional start-up Jet It has become the launch customer for Bye Aerospace's in-development eFlyer 800 electric-powered twin – although the HondaJet operator is not yet revealing the size of its commitment.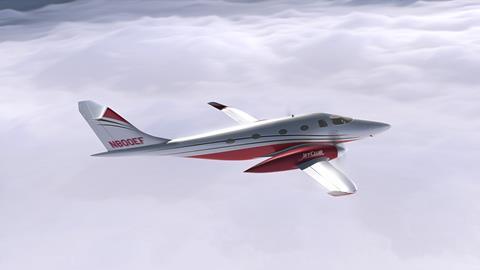 Jet It co-founder and chief executive Vishal Hiremath says his company – which this year launched a Maltese-registered sister operation called JetClub – has placed non-refundable deposits for a "substantial" number of reserved delivery positions, as well as options.
The former Honda Aircraft sales executive says he is "confident" Jet It and JetClub will be operating the 500nm (926km)-range type "in the second half of the decade", adding, "We believe in Bye."
Denver-based Bye announced development of its eight-seat "turboprop class" eFlyer 800 in April, after previously launching two smaller electric aircraft, the two-seat flight trainer eFlyer 2 and four-seat eFlyer 4, which it is pitching at the air taxi, cargo and advanced training sectors.
Assembly of the first serial eFlyer 2 began in March. Bye says it holds deposit agreements for 717 aircraft in total, and that it is "in the process" of obtaining US Federal Aviation Administration Part 23 certification for both types.
The company claims the eFlyer 800 will have operating costs a fifth of those of equivalent-size turboprops, thanks to a composite design and two 500kW (670hp) Safran ENGINeUS electric motors.
Hiremath and former Honda colleague Glenn Gonzales set up Jet It in 2018, and it now operates 10 HondaJets, making it one of the biggest customers for the type.
The European operation launched with one HondaJet, but Hiremath says that fleet will likely to grow to three by the end of the year, with the US arm adding another five of the type.
He says the business works on a model of not owning aircraft, but selling minimum one-eighth shares to fractional customers before aircraft are acquired. However, for the Bye aircraft, Hiremath is "leaning towards" buying the aircraft and operating charters.
Hiremath believes the electric type will be competitive among budget-conscious users who are making frequent short-haul city hops. "It's in the [Textron Aviation] King Air and [Daher] TBM space, but superior to them in terms of economy. If we can put it into operation from day one with superb reliability, as Bye are promising, then it's a game changer."
He thinks any concerns about flying in electric aircraft will quickly fade, as have concerns about electric automobiles. "My answer might have been different had there been no Tesla today," he says. "But what Tesla have done is taken away doubts about electric propulsion."
He adds: "Everyone these days wants to pollute the Earth less. But to be able to do so without it hitting your wallet will make electric aircraft even more popular."
Bye has the backing of some big names in aerospace. As well as working with Safran on developing electric motors, the company said in April it is partnering with system specialist L3Harris to develop a multi-mission variant of the eFlyer 800.