Can short-haul, on-demand regional air mobility between secondary airfields become a viable business for the 2020s? The dream of flying when and where you want in private aircraft without having to endure crowded hub airports - or bear the prohibitive cost of ordinary charter - is of course not new.
But now a southwest France hybrid electric aircraft developer and a Vancouver, Washington "software aviation" company think that between them they have a combination of technologies that can make the dream of easy mobility a profitable reality.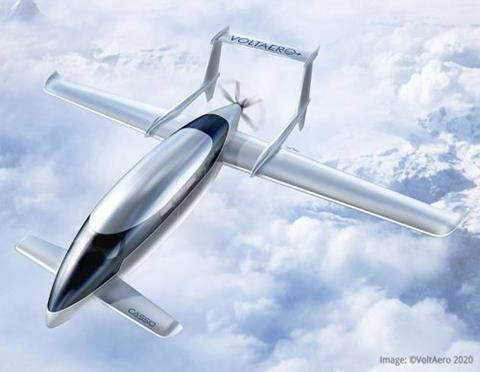 For the moment, an alliance between the two is being described as a "co-operation" which "foresees [VoltAero's] Cassio aircraft integrated with KinectAir's short-haul infrastructure, applying artificial intelligence to balance passenger demand with air transport availability". The vision is for KinectAir's software platform - an AI-driven smartphone app designed to connect passengers with operators of one or a few aircraft - to "interface directly with Cassio's 'intelligent cockpit'".
Seamless interface between aircraft and routing software should keep each aircraft flying with a full passenger load through a working day, avoiding the costly empty legs that can plague charter operations. Those aircraft need to be economical to operate, and quiet enough to fly from local airports if this system is to deliver what VoltAero co-founder and a former Airbus chief technology officer Jean Botti calls "an accessible, affordable, sustainable and safe way to travel regionally by air".
In practice, the early manifestation of that cooperation may be the one that every aircraft development company needs so desperately. That is, if all goes well, KinectAir hopes to move from using its smartphone app to fill flights for US operators of aircraft like Pilatus PC-12s or Cirrus SR22s to holding its own Part 135 certificate.
The firm tells FlightGlobal that "it is fully intended that KinectAir will become a launch client for VoltAero… that would see it operate 10-20 aircraft".
Those aircraft, it adds, could be acquired via lease or via some form of fractional ownership. Timing and finance remains to be finalised, but VoltAero hopes to be have Cassio ready for service from late 2022. The concept is modular, with four-, six- and 10-seat variants planned.
Meanwhile, both companies are in start-up mode. Botti founded VoltAero with Didier Esteyne, the test pilot who at Airbus worked closely with him to develop the E-Fan two-seater that in 2015 became the first pure-electric aircraft to cross the English Channel.
Using a progressively modified Cessna Skymaster as a testbed, they began flight and ground testing earlier this year of the hybrid-electric drive system that will power the all-composite Cassio. In production configuration it will feature a single pusher prop, aft-mounted wing, high tail on a twin boom, and canards. The single pusher prop will be powered by an internal combustion engine – a Nissan petrol engine in original concepts – driving three 60kW electric motors. In standard operations, the electric motors would be used for relatively silent take-offs and landings with the engine extending range or available for direct drive of the propeller.
KinectAir says its current operations are at the "beta testing" phase with PC-12 operators in the US Pacific Northwest, but the Covid-19 lockdown hit before trials really got going.
But KinectAir's timing may be in fact fortuitous. Mainstream aviation has been hit by coronavirus, and there is certainly passenger demand for new options, including to fly privately rather than in crowded cabins.
Airline operations are already changing. The French government, for example, bailed out Air France on the condition that it not compete with TGV high-speed rail services. A quiet, efficient, propeller-driven aircraft like Cassio - 200kt (370km/h) and some 700nm (1,300km) range - is perfect for such regional travel. KinectAir intends to operate in Europe and "VoltAero is right in that niche".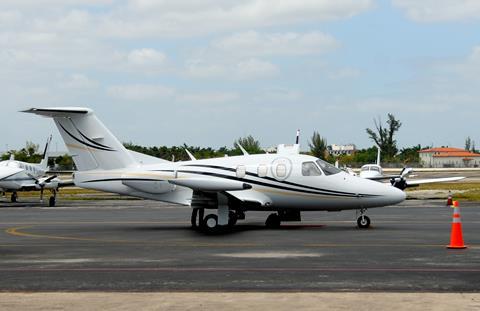 BEEN THERE?
Anyone with a decadal view of aviation will recall the Eclipse 500 very light jet. Developed to be mass produced, these were the archetypal "air taxi", an on-demand point-to-point vehicle set to transform travel by enabling ride-sharing single passengers or small groups to avoid hub airports and, instead, fly direct to small airports near their final destination. In a vision echoed by KinectAir, efficient aircraft kept full by clever software would make the whole system work at large scale to be economical - and profitable.
The 2008 financial crisis grounded the air taxi vision - including Eclipse - before it ever got started. So what's different today?
KinectAir chief technology officer Ben Howard explains in a company video that it was important to be "different from what was already out there today… how is this not another charter operator, how is this not another Wheels Up or NetJets?". In the same video, chief executive Jonathan Evans muses: "We're building a trusted aviation service and a culture of aviation safety and… service that brings joy back to air travel."
In a more prosaic assessment, KinectAir sees its business as a "sum of parts game". There is "no silver bullet", but the company believes that artificial intelligence - early reality today but a distant dream to air taxi aspirants a dozen years ago - will deliver "a really good software experience…to take the frictions out" and keep the flights full.