Cirrus Aircraft's SF50 Vision Jet has become the first business jet to secure certification for the Garmin Autoland system, with the safety feature receiving US Federal Aviation Administration approval on the single-engined type on 31 August.
Autoland is part of a package of safety features - branded Safe Return – that Cirrus has integrated into the Vision Jet's G3000-based Perspective+ flightdeck. It complements an existing emergency parachute system, called CAPS, that the Duluth, Minnesota-based manufacturer pioneered on its SR20/22 piston singles before adding it to the Vision Jet when that was launched in 2006.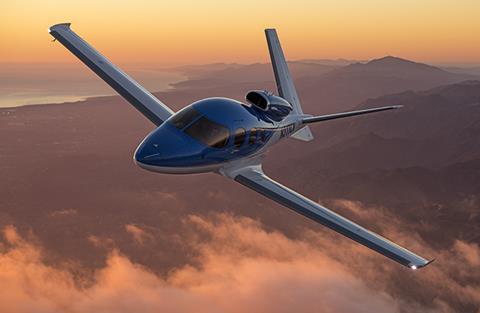 Cirrus describes Autoland as "a revolutionary system" that allows passengers to land the six-seat Vision Jet with just the touch of a button, "purposefully located on ceiling of the cabin for easy access".
"Once activated… Safe Return assumes control of the aircraft and transforms the Vision Jet into an autonomous vehicle that navigates to the nearest suitable airport for landing, communicates with air traffic control, lands and brings the aircraft safely to a complete stop, allowing passengers to exit the aircraft," says Cirrus.
Deliveries of Vision Jets equipped with the Safe Return function will begin shortly, and Cirrus plans to offer a retrofit programme for owners and operators of 2019-built, "generation two", variants, which total around 60 examples.
The Williams International FJ33-5A-powered Vision Jet is the third platform to secure regulatory approval for the autoland with Piper's M600 SLS and Daher's TBM 940 single-engined turboprops clinching certification for the system in May and July respectively.
"With Safe Return, we are making personal aviation more accessible, elevating the passenger experience and taking the next step towards autonomous flight," says Cirrus chief executive Zean Nielsen.. "The Vision Jet sets a new standard in personal travel with the combination of Safe Return and CAPS, offering the ultimate level of safety, control and comfort for the pilot and passengers," he adds,