Garmin has won the 2020 Robert J Collier Trophy for its Autoland system – a technology approved for three general aviation aircraft that can complete fully autonomous landings in the event pilots become incapacitated.
Presented by the National Aeronautic Association (NAA), the award reconigises Garmin for "designing, developing and fielding… the world's first certified autonomous system that activates during an emergency to safety control and land an aircraft without human interaction", NAA says on 3 June.
It notes that instances of pilot incapacitation, while not common, are "almost always fatal".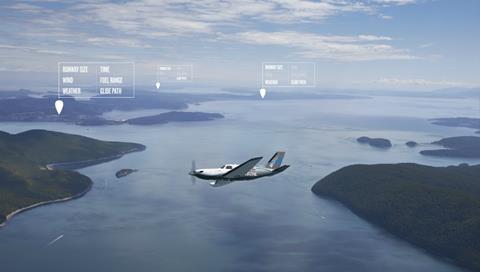 "The Garmin Autoland system marks a significant improvement in civil aviation," says NAA chair Jim Albaugh. "It's ability to take over an airplane with a disabled pilot and land it safely will save many lives in the future."
Garmin and Piper Aircraft scored a breakthrough in May 2020 when the Federal Aviation Administration certificated Autoland for use on the M600 SLS, the latest variant of Piper's single-engine turboprop.
The FAA followed that approval with two more. It green-lighted Autoland for use on Daher's TBM 940 single-prop in July 2020, and on Cirrus Aircraft's single-turbofan-powered Vision Jet business aircraft in August last year.
Autoland can be manually activated by pushing a button in the cockpit. It also engages "automatically when it determines a pilot is unable to fly", according to Garmin.
The technology selects the most-appropriate airport for an emergency landing, accounting for factors such as distance, runway length and aircraft fuel quantities. It navigates the aircraft to the airport – flying so as to avoid terrain or hazardous weather – and lands, then brakes, autonomously.
First awarded in 1911, the annual Collier Trophy recognises "performance, efficiency and safety" achievements in the US aeronautics and astronautics industry, NAA says.