UK charter specialist Volare has become the latest customer for the Lilium electric vertical take-off and landing (eVTOL) jet, with a "firm commitment" for 10 aircraft plus 10 options.
Under the agreement, the Oxford-based company will market the "Pioneer Edition" version of the jet to private owners under a new subsidiary called eVolare, and operate and maintain the aircraft on their behalf.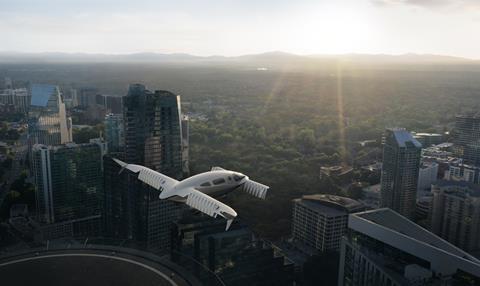 The arrangement will "provide an opportunity for customers that regularly travel between locations within the UK to be part of an exclusive group of early adopters that can experience the future of sustainable regional air mobility", says the German developer.
Lilium referenced the limited edition in a letter to shareholders in September, noting that the variant – of which Lilium will build just 50 – features "a tailored cabin and dedicated services on attractive financial terms".
The deal – under which Volare will make an undisclosed pre-delivery payment to secure delivery slots – marks the formal launch of the Pioneer Edition, according to the Munich-based start-up.
Lilium chief executive Klaus Roewe describes Volare's experience in business jets and helicopters as a "great fit with our commercial first phase, getting the premium segment to adopt our aircraft while preparing the entire ecosystem for a larger market". He adds that Volare's "visionary approach to sustainable air mobility also makes them the perfect partner".
To date, Lilium has secured undertakings for almost 500 examples of its four-seat design from a number of high-profile customers, the most recent of which was Saudi Arabian airline Saudia, which in October agreed to take 100 Lilium Jets to operate point-to-point flights as well as feeder services to its hub airports for business class passengers.
Lilium is aiming for European certification for its design in 2025. To date it has carried out flight tests only with scaled demonstrators, with a production-representative prototype scheduled to become airborne next year.