Vu Systems has completed development flight testing of what it describes as "civil aviation's first passive millimetre wave (PMMW) sensor", which promises to revolutionise operations in low-visibility minima.
Design of the sensor, known as Vu Cube, is now frozen and the US engineering company says it is "now working to secure certification of the final product".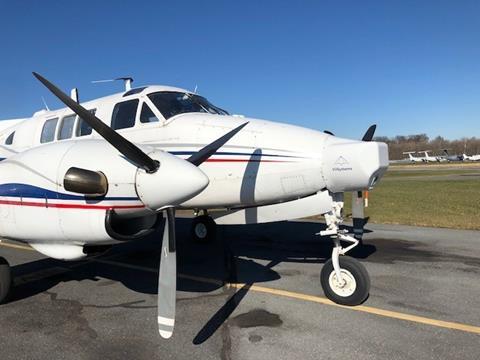 A Beechcraft King Air 90 was used a testbed for the campaign, with the sensor mounted on the nose of the twin-engined turboprop, and integrated into an infrared (IR) camera.
Vu says the aircraft made 50 sorties and performed more than 150 approaches across a "broad spectrum of inclement weather conditions".
"The sensor passed an extensive test programme that included flying… in all manners of low visibility, including rain, heavy fog and extremely low ceilings," says the Morrisville, North Carolina-headquartered firm.
Multiple variations of the sensor were tested, Vu says, to create a product line "optimised" for business and large transport aircraft.
"The Vu Cube surpassed our expectations in flight tests," says chief science officer Larry Yujiri. "In dense fog, runways were clearly visible on approach [and] the sensor even worked in conditions where visibility through the IR sensor was completely obscured."
Flight tests also confirmed the PMMW sensor's capability to display a runway "two to three miles out under low-visibility conditions", Yujiri adds.
Vu is now freezing the sensor's design and "working towards certification of the final product", he says. A timeline for approval has not been disclosed.
The sensor uses patented PMMW technology and "operates at a wavelength up to one thousand times longer than that of today's most-advanced sensors", says chief executive Stedman Stevens. This "allows Vu Cube to see through clouds and fog when traditional [infrared Enhanced Vision System] sensors cannot".
When operating in combination with additional onboard sensors, Vu Cube allows pilots to "see" through the broadest spectrum of weather possible and to land in "zero-visibility" conditions.
Stevens is confident the sensor will provide major economic benefits to operators, airports and the broader industry by eliminating the multi-billion-dollar global problem of low-visibility weather delays, while improving flight safety.
Following the public launch of Vu Cube in October 2019, feedback from aircraft manufacturers and operators has been positive, the company says. "We are in detailed conversations across the market and interest has been very high," it adds.
Now that coronavirus restrictions are easing, Vu plans to start demonstration flights "in the coming weeks with two airlines and a leading business-aircraft manufacturer," it continues.
The firm is exploring "strategic options" to help commercialise the sensor and meet customer demand for the product. This includes partnering with established avionics manufacturers, says Vu, although it does not disclose what form these alliances will take.
Vu announced a partnership with Saab in 2019 to incorporate the sensor in the company's next-generation enhanced flight-vision system, which combines PMMW and infrared sensors with a synthetic vision system.