Canada has notified Airbus Defence & Space that its A330 multi-role tanker transport (MRTT) has been qualified to bid in a process to replace its air force fleet of A310s. A rival offer of the Boeing KC-46 Pegasus was rejected by Ottawa.
An invitation to qualify process for the Strategic Tanker Transport Capability (STTC) project was launched on 12 February. Airbus announced on 1 April that this activity "has identified the A330 MRTT as capable of meeting the project's requirements".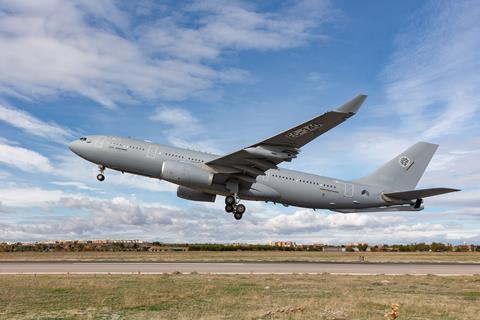 A draft request for proposals to replace the Royal Canadian Air Force's (RCAF's) four A310s – a type named the CC-150 Polaris in its service – is anticipated in the third quarter of 2021, the company says. The service currently operates two examples as dedicated tankers and two in the transport role.
"The STTC programme looks to replace the RCAF CC-150 Polaris tanker fleet with a multirole aircraft capable of conducting a wide range of missions including NATO and NORAD operations, ranging from air-to-air refuelling to strategic government of Canada transport and aeromedical evacuation," Airbus says.
"This new aircraft will improve the flexibility, responsiveness, interoperability with allied nations, communications security, and self-protection of the Royal Canadian Air Force's current fleet," Canada's government says. Its analysis phase for the STTC requirement was launched in March 2018.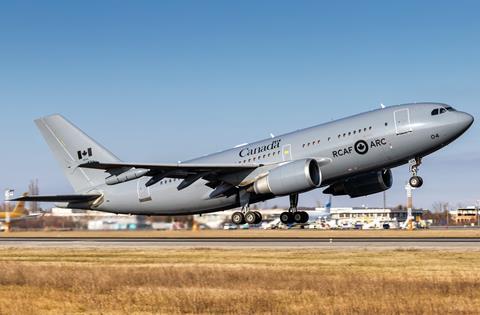 The new tanker/transport fleet will be introduced at Trenton air base in Ontario, with Ottawa expecting initial operational capability to be declared in 2028-2029, with full operational capability to follow by 2030-2031.
Airbus Defence & Space Canada president Simon Jacques notes that the A330 MRTT "is certified to operate with the majority of western receivers, including Canada's current fighters, transport and mission aircraft."
Boeing confirms that its candidate will not be considered for the next project phase.
"Boeing was informed by the government of Canada that the KC-46 did not qualify for the country's Strategic Tanker Transport Capability project," the company says. "While disappointed in the decision, we will remain ready to bring the full depth and breadth of Boeing to our offer in the event Canada decides to reopen the bidding process."