A shortfall in Indonesian development payments for the Korea Aerospace Industries KF-21 fighter continues to be an issue for the programme, with a senior South Korean official visiting Jakarta in an attempt to iron out the situation.
The head of Seoul's Defense Acquisition Program Administration (DAPA), Eom Dong-hwan, is in Jakarta for talks with Indonesian officials about the late payment issue, according to South Korea's Yonhap news agency, quoting DAPA.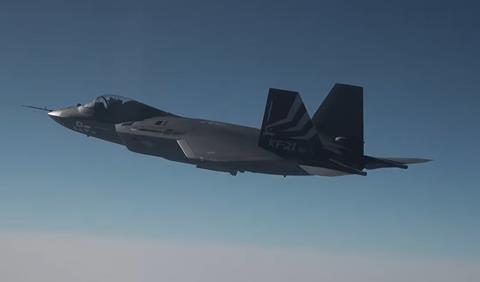 The total cost of the programme is estimated at W8.1 trillion ($8.2 billion) through 2026, with Jakarta committed to provide 20%. South Korean media reports suggest that it has paid just W278 billion so far. In May, Yonhap reported that Jakarta was W800 million in arrears, although it had resumed payments in November 2022.
Despite the long running payment issues, Indonesian officials have consistently stated their commitment to the programme. In September, Indonesian president Joko Widowo reportedly affirmed Jakarta's participation, while earlier this year the country's deputy defence minister Wamenhan Herinda stated that Jakarta has a "big commitment" to the KF-21.
Nonetheless, Indonesian payment arrears have been a consistent challenge, despite periodic remarks that an agreement has been reached.
The Indonesian air force is expected to ultimately operate 48-50 examples, with units to be produced locally by state airframer Indonesian Aerospace. The Republic of Korea Air Force (ROKAF) aims to operate 120 KF-21s.
In addition to its KF-21 commitment, Jakarta has orders for 48 Dassault Rafale fighters, and a memorandum of understanding with Boeing for 24 F-15EXs.
The KF-21 is powered by two GE Aerospace F414 engines, and six prototypes are involved in a flight-test campaign. Mass production is planned for 2024, with deliveries to the ROKAF starting later that year.