The Netherlands could acquire three signals intelligence (SIGINT)-gathering pods for its General Atomics Aeronautical Systems MQ-9 Reaper remotely piloted air vehicles, potentially for use from late this year.
Announced on 18 January and worth an estimated €50-100 million ($54-108 million), the deal "will strengthen intelligence, surveillance and reconnaissance capacity" for the Royal Netherlands Air Force, the nation's defence ministry says.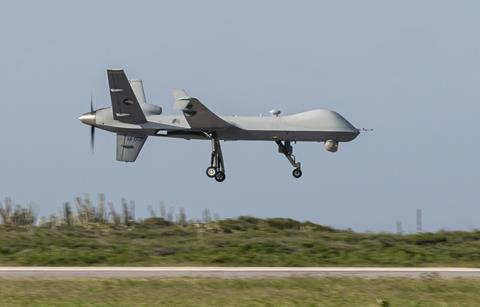 Defence secretary Christophe van der Maat has informed the Dutch parliament of a proposed accelerated purchase, which requires approval before 31 January.
"If everything goes according to plan, the first pod will be delivered at the end of this year," the defence ministry says. The equipment will also have an electronic support measures capability, it adds.
"This is important because of the situation on Europe's eastern flank," it adds, referring to the war in Ukraine. "By being able to build up an intelligence picture from the air with its own resources, the Netherlands will make an important contribution to the defence of the [NATO] alliance."
Meanwhile, the defence ministry says its fleet of four Reapers recently passed a combined 1,000 flying hours.
Three of the aircraft are currently based on Curacao in the Caribbean, where a 40-strong detachment of personnel is conducting a test and evaluation activity which is scheduled to run until 1 July.
"After that they will focus again on the operational readiness of the Reaper," it says.
The Netherlands in June 2022 announced that it will double its Reaper acquisition to eight air vehicles, and also proceed with adding the ability for these to deploy air-launched weapons. Its aircraft were originally purchased in an unarmed, surveillance-only configuration.
Additional equipment plans for the fleet include the proposed acquisition of four communication relay pods and four maritime surveillance radars, the defence ministry notes.

Craig Hoyle joined Flight International in 2003, and has edited the now monthly title since 2015. He has reported on the UK, European and international military aviation sector for more than 25 years, and produces our annual World Air Forces directory.
View full Profile