South Korea and Japan continue to progress their plans for small aircraft carriers, while the Republic of Singapore Air Force has operated Boeing CH-47Ds to the Royal Australian Navy vessel HMAS Adelaide.
A key element of South Korea's defence posture in the 2030s will be a 30,000t aircraft carrier, according to the nation's defence ministry. This will be equipped with Lockheed Martin F-35Bs, the short take-off and vertical landing (STOVL) variant of the fighter.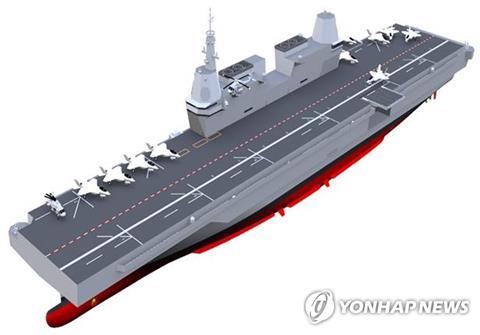 Reports suggest that the 20 F-35Bs will be ordered along with an additional 20 F-35As for the Republic of Korea Air Force. Should the orders come to pass, this will give Seoul a total fleet of 80 F-35s, comprising 60 F-35As and 20 F-35Bs.
It is understood that the warship will be ready by 2033 and cost in the region of W2 trillion ($1.8 billion). On 27 October, Seoul's Defense Acquisition Program Administration announced that a meeting will be held to discuss core technologies for the project.
One area where South Korea appears interested in developing a sovereign capability is deck material that can withstand a jet blast of 1,000°C (1,830°F). A number of local agencies will be involved in the work.
Separately, media reports from Japan indicate that work has commenced to modify a pair of so-called 'helicopter destroyers,' the JS Izumo and Kaga, into carriers capable of handling the F-35B, which Tokyo is also obtaining. Images on social media show Izumo undergoing extensive work in the Japanese port of Yokohama.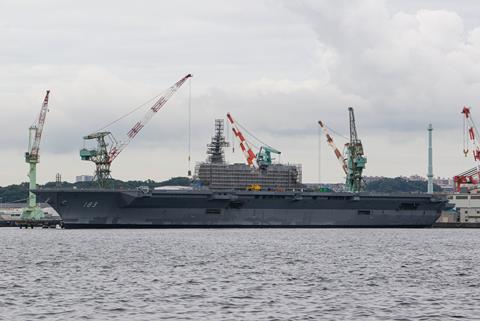 The Japan Maritime Self-Defence Force declined to offer details about the conversion. Defence publication Janes, however, recently reported that the two warships will not feature a 'ski-jump' style ramp to assist take offs, but have a square, horizontal bow similar to those on US Navy amphibious assault vessels, which also operate the F-35B.
Tokyo has plans to operate 42 examples of the STOVL variant of the F-35.
In another carrier development, the Royal Australian Navy and Singapore's defence ministry announced that Republic of Singapore Air Force CH-47Ds – which are based in Australia – recently conducted work aboard the Adelaide to qualify for landing on it and sister ship Canberra.
There has been speculation that the Southeast Asian nation could perhaps operate a flat-top that can handle the F-35B, of which the city state has plans to order 12 examples.
The country eventually plans to replace four amphibious assault ships with more modern vessels. At the 2019 iteration of the Imdex defence show in Singapore, shipbuilders showed off models of prospective flat-tops.
Local defence contractor ST Engineering displayed a model of a 14,500t helicopter carrier designated Endurance 160, while Spanish shipyard Navantia had a model of its 26,000t Juan Carlos I carrier. Adelaide and Canberra are based on the Navantia design.
Small flat-tops in Southeast Asia are not without precedent. Thailand's HTMS Chakri Narubet is based on Spain's former Principe de Asturias carrier. The vessel typically accommodates six Sikorsky SH-60s, but more helicopters can be added as necessary. It also operated the McDonnell Douglas AV-8 Harrier until 2006.
Given that land-scarce Singapore struggles to find space for basing, a ship capable of carrying a detachment of fighters could be of interest, although manning such a large vessel could prove challenging.