The US Air Force (USAF) has added the first E-11A Battlefield Airborne Communications Node (BACN) aircraft from a 2021 order for the Bombardier G6000 derivative.
USAF took delivery of the aircraft on 15 September in Wichita, prior to its joining USAF's BACN fleet at Hansom Air Force Base, Massachusetts on 19 September. It is the first of potentially six examples ordered in June 2021 under a contract worth up to $465 million.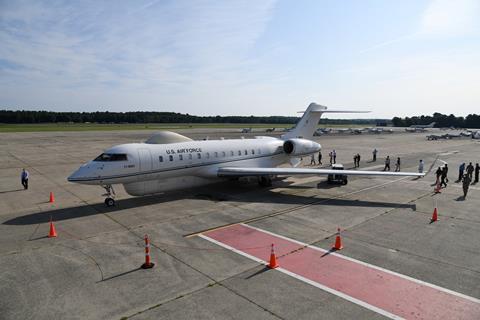 Modification work for the aircraft (21-9045) took place in Wichita, Kansas.
E-11A BACN aircraft provide an airborne relay station to extend communication ranges, bridge different radio frequencies, and "translate" between incompatible communications systems.
"BACN technology reduces line-of-sight issues by enabling real-time information flow across the battlespace between similar and dissimilar tactical data link and voice systems through relay, bridging, and data translation," says USAF.
The 2021 contract saw USAF confirm the first three aircraft. The second aircraft from the order will arrive later this year, and the third in 2023.
USAF may obtain an additional example in both 2024 and 2025, adds Bombardier. Northrop Grumman provides integration, sustainment, and support for the BACN programme.
"The BACN program reduces communication issues associated with incompatible systems, adverse terrain, and distance," says USAF Lt Col Eric Inkenbrandt.
"BACN increases interoperability which results in forces that execute faster, more reliably, and with less risk to the warfighter. The delivery of 21-9045 is the pivotal first step to advancing the mission this program provides."
Bombardier had previously delivered four Global aircraft in the E-11A BACN configuration to USAF.
One example, however, crashed in Afghanistan in January 2020. USAF Air Combat Command subsequently determined that the crew accidentally shut down the only operable engine following an engine failure.
Not including 21-9045, Cirium fleets data shows that the average age of USAF's three E-11As is 16.3 years.