With ADASI, the UAE is rapidly becoming a leader in unmanned systems. We chart the EDGE unit's remarkable record of product innovation over 14 years, and assess what the future holds
The 21st century has seen a transformation in the ways conflicts are fought and threats deterred. Unmanned aerial systems – an infant technology in the 1990s that was the preserve of the USA and a handful of other states – are now accessible to many more militaries throughout the world. Today's UAS are lighter, more capable, and more affordable than their first-generation predecessors.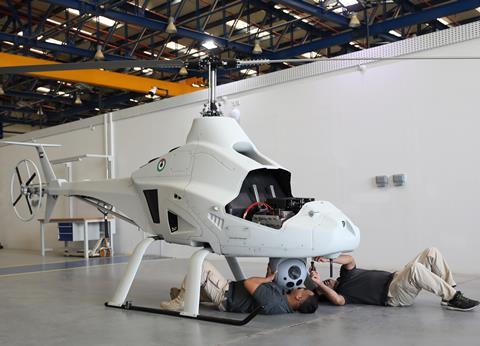 And as entry costs have fallen, the range of missions on which UAS can be used have expanded greatly. These go beyond the traditional "eye in the sky" surveillance platforms to now include loitering munitions – "intelligent" missiles that can sit over a target area for hours before striking at precisely the right moment and place. Unmanned platforms, matched with appropriate payloads, have become a fundamental tool for many nations to use in security surveillance, for deterrence and, when required, lethal strike.
Autonomous technologies are an area in which the UAE is becoming a pace-setter through EDGE company Abu Dhabi Autonomous Systems Investments, or ADASI. Over its 14- year existence, ADASI has developed a portfolio of tactical unmanned products, from tethered, lighter- than-air platforms to electro-optical/ infra-red camera-equipped vertical take-off and landing (VTOL) rotorcraft. All these are helping the UAE achieve sovereign capabilities in this critical area of defence and security, as well as creating opportunities for export to friendly countries.
ADASI's record of new product development in this time – sometimes in cooperation with sibling businesses within EDGE – has been impressive. Its latest launch, at the IDEX show in Abu Dhabi earlier this year, was its QX family of four battlefield-deployable loitering munitions, which vary in payload from 0.5kg to 6kg, and have a range from 10km to 40km.
However, ADASI's portfolio does not just include airborne autonomous platforms. The company offers ground-based products and is moving into the naval domain. "Our goal is to be focused on air, land, sea and even under the sea," notes Ali Al Yafei, chief executive officer. For instance, earlier this year, ADASI unveiled the result of a project with sister company NIMR to create a robotic version of a manned armoured carrier.
"Autonomous systems are the future," enthuses Al Yafei, who says that ADASI is now developing its own platforms and capabilities after beginning by adapting those designed by partners. Aside from the domestic customer, Al Yafei sees export opportunities in the Middle East and North Africa as well as South Asia. "Our vision is to be a world leader in this market," he says.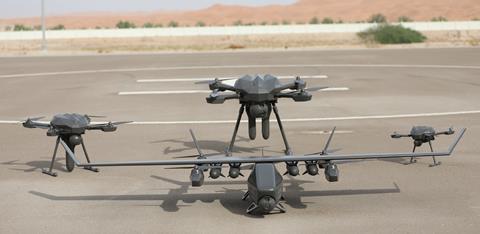 Home-grown capability
ADASI was established in 2007 with a "day one requirement" to develop a home-grown capability to deliver advanced UAS and other autonomous systems to the UAE armed forces, says Al Yafei. But there was also an early focus on the international marketplace, and this is where ADASI hopes to hone in with a diverse range of products.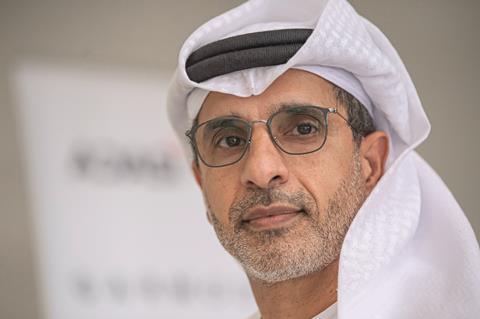 ADASI's progress has been impressive. Its first product was the Al Sabr, an adaptation of the rotary-wing, VTOL Camcopter S-100 from Austrian company Schiebel for a domestic customer. With a range of 100km and able to carry a 50kg payload, the type has an endurance of up to 6h, and can be operated directly by a pilot or automatically using pre- programmed waypoints.
The next decade saw the unveiling of the Aerostat family – tethered blimps ranging from 15m to 19m long that can operate at altitudes up to 1,000 feet with surveillance payloads. In 2017, the launch of the RW-24 saw ADASI move into another area of unmanned systems: a 100km-range loitering munition with a rhomboid wing – a joined wing consisting of four surfaces in a diamond shape.
Last year, ADASI revealed an all-new VTOL, rotary-wing design, the Garmoosha, again with the UAE armed forces as the launch customer. A step up in size from the Al Sabr, the type has a maximum take-off weight of 500kg and can carry a 150kg payload. Staying in the air for 6-8h at a range of 150km, the Garmoosha can be used for pipeline surveillance and other reconnaissance missions.
This year witnessed another departure, with the man-portable QX range, designed for use in the field by infantry or special forces. While the QX-1 is a micro loitering munition drone, designed to destroy itself along with the target, the mini QX-2 and small QX-3 variants have the option of deploying precision-guided weapons from close range. The QX-4 is a fixed-wing VTOL UAS.
Innovation
The QX family makes use of artificial intelligence algorithms to target and strike, and has an aim accuracy similar to laser guided munitions, according to the company. The first products will be delivered to the local customer before the end of the year, and Al Yafei reports "strong interest" in the range from countries in the region.
"Our vision is to be a world leader in this market"

Ali Al Yafei, Chief executive officer, ADASI
Another new ADASI-designed product shown for the first time at the show was the Rash family, a fixed-wing guidance kit that can be attached to a standard mortar to convert it into a glider-based guided munition system. The product comes in a variety of sizes to accommodate different payloads and ranges, and will also be supplied to the UAE armed forces.
Features that set ADASI apart from many of its international competitors include a complete range of platforms, battlefield operation capability, the ability to integrate its products with complex payloads, and sustainment packages that include mobile ground systems, maintenance and training, says Al Yafei.
With unmanned technologies identified by EDGE as an area in which it can be a true differentiator, Al Yafei is confident that the company can go on to win a bigger share of the global military market. With more than 20,000 flying hours recorded on its still young range, and "additional products on the way", ADASI is on its way to being the next big name in UAS.