EPI has become a trusted producer of complex components. Its CEO explains how investing in the latest equipment has led to it rapidly rising up the value chain
EPI has been in the aerospace industry just 10 years, but in that time has become one of the Middle East's foremost precision engineers of build-to-print aluminium and titanium components. Based, like several of its fellow EDGE companies, in a factory on the large Tawazun Industrial Park in Abu Dhabi, EPI is unique among the group's defence- and security-oriented businesses in that it focuses mainly on commercial aircraft parts. Airbus, Boeing, Dassault and Stelia are among its customers.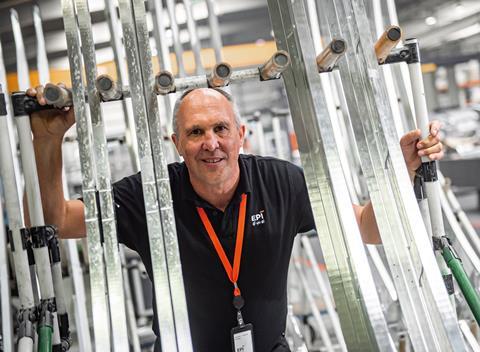 Founded in 2007 and producing its first shipsets for Airbus four years later, chief executive Christian Ziehe says EPI is well placed to meet the demands of the OEMs – including its biggest customer, Airbus – as they emerge from the crisis and boost output to beyond 2019 levels. "We were fortunate in not having to release a single staff member due to the Covid-19 economical impact, and instead were able to invest," says Ziehe. "Now we are in a great position to ramp up with the manufacturers."
That investment is clear to see during a tour of EPI's deceptively- expansive and highly-automated production plant, where fewer than 150 staff, working up to three shifts, operate more than 50 CNC machines and other high-tech industrial kit.
That includes what must be one of the supply chain's most impressive surface treatment and paint facilities. It went into operation in 2019 and has been approved by Airbus, Boeing and Dassault.
EPI, which is part of the Mission Support cluster within EDGE, has been striving to shift up the value chain since it began making Airbus components as part of an offset requirement a decade ago. The installation in the past few years of medium-bed and then long-bed cutting equipment, as well as the surface treatment capability, increased the range and size of products that EPI could offer, and the company is moving into sub-assembly, delivering complete structures to its customers.
Intergrated offering
"This is the growth part of the business," says Ziehe, who, after spending 20 years in the defence industry in Germany, has worked worked for Tawazun in Abu Dhabi for the past decade. The company's long-bed CNC machine, which is able to shape parts up to 6m long, is the only one in the region, he says, and helped the company win contracts.
While EPI is a build-to-print manufacturer and does not design engineer parts, its investments in specialist equipment and talent – both home-grown and drawn from the wider aerospace industry – mean it now has a capability beyond simple machining components, says Ziehe. It can offer design enhancements and modifications, or even re-engineer existing components, with "quality and precision at every step".
With experience manufacturing military components for the likes of BAE Systems, and a business maintaining and repairing specialised drilling rigs for the oil and gas sector as part of its repertoire, EPI has a full, vertically-integrated offering, from taking delivery of raw material, to painting and treating finished products and providing non-destructive testing. "We work with our customers as one team, operating around the clock to provide state-of the-art engineering services," says Ziehe.
Abu Dhabi's commercial aerospace manufacturing industry may be young. But EPI proves EDGE's commitment to invest in the highest quality products and service. In just a few years, the company has become a vital link in the global supply network of Airbus and other aircraft manufacturers, able to compete on quality terms with established producers from all over the world, and with a clear ambition to push even further up the value chain.
Already, every A320neo flies with parts built in EPI's Abu Dhabi plant. Ziehe hopes that, within a few years, several more aircraft types will be doing the same.