Boeing is increasingly focusing on 'outcome based models' for defence customers, with a focus on long-term product lifecycles.
Speaking with journalists in London, Boeing Global Services (BGS) chief Stephanie Pope stressed the opportunities offered by data analytics.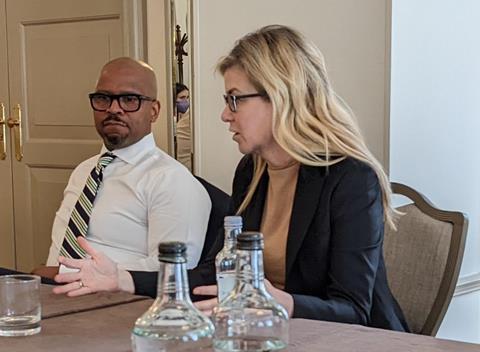 "The way we use data, and the way we do predictive modelling is much more massive than it was three years ago," says Pope.
She adds that given BGS straddles both Boeing's commercial and defence product lines, it has visibility in how technical solutions for, say, commercial customers can be applied for military customers.
"We're being a little bit more innovative on how we use data analytics to make commitments on availability and readiness as a differentiator," she says. "We're going to lean in and really focus on outcome based models. Whereas before it wasn't as much outcome based."
Pope partially attributes Germany's recent decision to obtain 60 Boeing CH-47 Chinooks to an emphasis on lifecycle sustainment.
"Lifecycle sustainment and cost is a competitive differentiator."
Pope contrasts this to the previous focus, which was more aimed at delivering specific capabilities, while "readiness and availability" were not the primary focus.
In terms of the data capabilities offered by specific aircraft types, she contrasts the C-17 strategic transport and T-7A advanced jet trainer. She says the C-17 is "more of a box that you get data off of," whereas the new T-7A allows data to be downloaded in real time.
Pope was speaking alongside Boeing Defense & Space chief Ted Colbert, who reiterated his views about the strong potential offered by autonomous aircraft, citing developmental programmes such as the MQ-25 Stingray unmanned refuelling aircraft for the US Navy and the Airpower Teaming System developed in partnership with the Royal Australian Air Force.
Colbert says that his discussions with customers have disclosed "a ton of interest for [autonomy] all around the world."
In response to a reporter's question about whether Boeing would be open to acquisitions aimed at boosting its autonomy capabilities, Colbert – who comes from an IT background - said that partnerships are a key element in the technology world.
"From a technology perspective on things like autonomy, we have a ton of autonomous technology, capability, engineering, and excellence within the company," he says.
That said, partnerships can help complement Boeing's existing capabilities.