Boeing Defense, Space & Security is disinclined from entering fixed-price contracts for major development programmes.
Instead, says Boeing defence chief Ted Colbert, the company aims to have a more collaborative relationship with customers.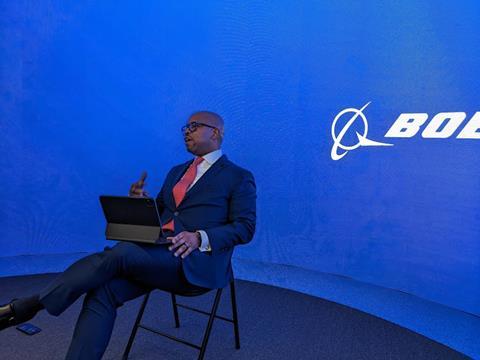 "Going forward we're working with our customers on how we contract," he says. "And working on the next lots of products and next big programmes to have contracts that actually support the type of work that we're doing, and in good partnership with our customers so we can perform together."
This is particularly true for new development programmes. In the 2010s, Boeing took on significant risk by entering into fixed-price contracts for programmes such as the KC-46 tanker, which has seen significant cost overruns and delays, and the T-7 advanced jet trainer.
Colbert made the remarks to reporters on 28 February at Boeing's pavilion at the Avalon Airshow outside Melbourne, Australia.
"We have all learned how challenging [fixed-price contracts] are," he says. "If you talk to customers, they have had the same experience that we've had."
Adds Colbert: "We're putting quality ahead of schedule. You have to start these programmes right or you end up in places you don't want to be in."
He was also asked about how the current geopolitical situation, namely Russia's invasion of Ukraine and growing tensions between China and the USA, are affecting buying behaviour among customers.
"All of the things going on around the world have created increasingly intense and more dynamic demand for defence products around the world," says Colbert. "We are working with all of our customers, primarily through the US government, to fulfil those requirements as they come."