Boeing subsidiary Aurora Flight Sciences has won a US defence contract to develop an experimental aircraft that can fly without traditional control surfaces like rudders, flaps and ailerons.
The US Department of Defense (DoD) said on 7 December that Aurora has won a cost-plus-fixed-fee contract with the Defense Advanced Research Projects Agency (DARPA) worth $42 million for development of the so-called X-Plane.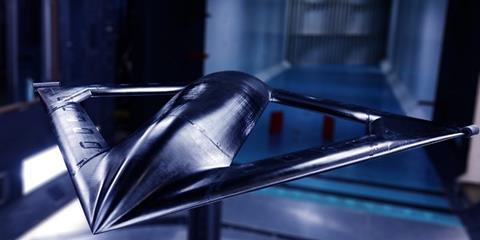 Officially known as the Control of Revolutionary Aircraft with Novel Effectors (CRANE), the programme aims to improve flight performance through the use of so-called active flow control (AFC). The design eliminates use of traditional moving control surfaces to manoeuvre an aircraft, instead using actuators and effectors to modify surface airflow by directly adding energy or momentum.
DARPA believes the technique could produce significant improvements in flight performance, including in range, speed and turning radius.
"CRANE seeks to optimise the benefits of active flow control by maturing technologies and design tools, and incorporating them early in the design process," DARPA says. "Active flow control could improve aircraft performance by removing jointed surfaces, which currently drive design configurations that increase weight and mechanical complexity."
Aurora, which specialises in developing aerospace innovations in propulsion and automated flight, first won an early stage exploratory contract for "Phase 0" of CRANE development, in 2020.
The firm won a subsequent Phase 1 contract in 2021 covering development of system requirements, initial design and a preliminary airworthiness review.
"This team builds upon decades of AFC research and prototyping, including flight tests of full-scale implementations," said then-Aurora chief executive Per Beith in 2020. "Together with DARPA, we can enable fundamentally new approaches to aircraft design and look forward to exploring game-changing configurations."
The company declined to comment following the 7 December contract announcement, but says it plans to release a statement about the programme on 12 December.
Lockheed Martin also received a separate Phase 1 CRANE contract in 2021, while BAE Systems was added to the programme with a Phase 0 contract.
"All of the CRANE performers are exploring unique configurations and performance objectives," says DARPA programme manager Alexander Walan. The agency says it will mature "multiple AFC technologies".
In winning the 7 December contract, Aurora has progressed to the next stage of process, in which work is expected to be completed in September 2025.
DARPA says its goal for the programme is to create opportunity for future military and commercial applications by demonstrating the potential of AFC for stability and control in flight.