The pilot of a US Navy (USN) Boeing F/A-18 Super Hornet successfully controlled three unmanned air vehicles (UAVs) during a recent demonstration in California.
The US Naval Air Systems Command (NAVAIR) said on 15 July that using an on-board tablet, the pilot was able to direct the UAVs to perform various aerial manoeuvres during a series of four flight tests near Ventura, California.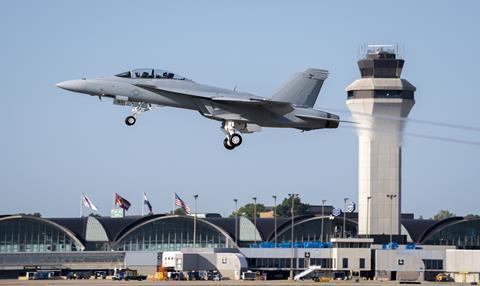 The pairing of conventionally piloted aircraft and UAVs is a concept the US military calls "manned/unmanned teaming", or MUM-T.
"The MUM-T concept explores interoperability between manned aircraft and unmanned autonomous systems to conduct missions," says USN Captain Jason Denney, programme manager for the F/A-18 and EA-18G Growler electronic attack variant of the Boeing twin-engined fighter.
"Such collaborative endeavours are imperative for resource and requirements planning to ensure the warfighter is equipped with best-in-class capabilities," Denney adds.
Commands were given to the undisclosed type of UAV using a tablet connected to the Block III F-18's Distributed Targeting Processor – Networked (DTP-N), which communicated with the nearby aircraft.
All commands issued by the pilots were successfully completed, NAVAIR says.
Dr Michael Yu, experimentation and demonstration lead for NAVAIR's F-18/EA-18 office, says that exercises like the MUM-T test are carried out regularly with the USN's industry to evaluate current and future technologies.
"The comprehensive analysis of data captured during these events further informs development and refinement of technologies that could potentially be incorporated into navy platforms," he explains.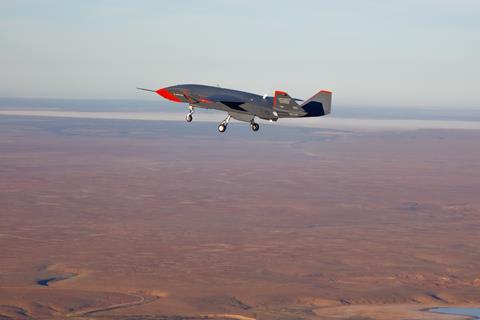 Yu says that MUM-T could allow the navy to extend the reach of its aircrew, while keeping them farther away from enemy fire.
Manned-unmanned pairing could also enable pilots to delegate tasks or incorporate UAVs into missions such as patrolling airspace, fuelling aircraft or serving as a communication relay node, NAVAIR notes.
With 435 of the fourth-generation fighter in service and 58 more on order, according to FlightGlobal's 2022 World Air Forces directory, the Super Hornet forms "the backbone of carrier-based aviation power projection," NAVAIR says.
By comparison, the USN only plans to procure some 230 carrier-based Lockheed Martin F-35C Lightning II fifth-generation fighters. That number does not include the additional short take-off and vertical landing F-35B variant airframes being acquired for the US Marine Corps.
The service's Navy Aviation Vision 2030-2035 outlines blended carrier air wings using "a complimentary mix" of F/A-18s, F-35s and a still-unnamed next generation strike fighter designated as F/A-XX.
That report says the Block III Super Hornet will remain the backbone of the carrier air wing through 2035, with the F-35C acting as a "force multiplier" through the use its advanced stealth and passive collection intelligence gathering sensors.