Finland has launched the latest stage of its HX fighter contest, with a first candidate type now involved in flight evaluation from the nation's Pirkkala air base.
Detailing the new phase in a blog post, Finnish defence ministry programme manager Lauri Puranen describes it as a "testing and verification event for HX candidates". Intended to evaluate aircraft performance against the responses submitted following Helsinki's earlier invitation to tender, the activity "will test the multifunction fighter and its systems on the ground, air, take-off and landing," he adds.
The Eurofighter consortium's Typhoon is the first model to begin the process, with two Royal Air Force examples having been deployed from the UK for an assessment window running from 9-17 January.
Following the Typhoon's participation, the programme's other candidates will undergo the same process. These are the Dassault Rafale (20-28 January), Saab Gripen E (29 January-6 February), Lockheed Martin F-35A (7-17 February) and Boeing's F/A-18E/F Super Hornet (18-26 February).
"The Finnish operating environment and operating methods may differ from other users' weather and lighting conditions," Puranen notes. "Winter conditions affect the operation of the multifunction fighter and especially the performance of electro-optical systems, but possibly other active and passive systems as well."
A further evaluation activity to be conducted late this year "will look at the operational effectiveness of each candidate's HX system by simulating a long-running war game [as] part of the Finnish defence system," Puranen says.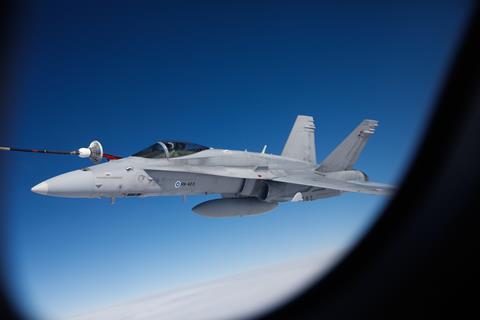 Helsinki plans to select a winner during 2021, with the chosen type to replace its air force's F/A-18C/D combat aircraft from around 2025. Operations with its legacy Hornets are due to conclude by 2030. Cirium fleets data shows its active fleet of the type as totalling 62 examples.