Comments this summer by US government officials reveal competing arguments about how best to upgrade the engine in Lockheed Martin's F-35 fifth-generation fighter.
While members of Congress have expressed reservations about a full engine replacement, a senior US Air Force (USAF) official who studies propulsion recently spoke in favour of new engine designs. The Pentagon is seeking a solution to ensure the F-35's engine has sufficient capability to power and cool the jet's advanced electronics.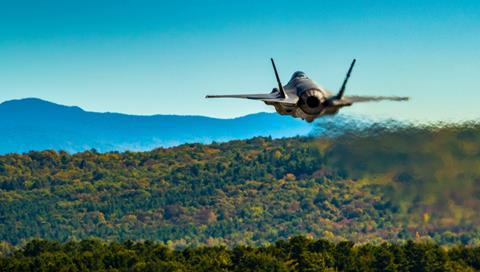 Speaking at a conference in Dayton, Ohio earlier this month, John Sneden, propulsion director at the USAF Lifecycle Management Center, warned the USA is falling behind in propulsion technology. "The perception… that's out there is that we're maintaining, if not advancing, our military advantage in propulsion," says Sneden. "But, the reality is we're essentially stagnating, and we're starting to lose."
He also remarked favourably about thrust and fuel-burn improvements expected from two next-generation, adaptive-engine concepts being developed for the USAF by Pratt & Whitney and GE Aviation.
Sneden's comments came as the Pentagon weighs how to address a powerplant issue facing the F-35. The issue is not aerodynamic or performance related, but rather a cooling issue reflecting a multi-decade acquisition programme that has outgrown its original design. Now, the US military is evaluating whether to re-engine the F-35, or update the core of the jet's existing P&W F135 engine.
COOLING THE SENSORS
There have been substantial advances to the F-35's radar, electronic-warfare modules and other sensors in the roughly 20 years since Lockheed and P&W designed the aircraft and engine. Those electronics come with power and cooling demands beyond what the F135 was intended to provide.
"We are currently operating the engine at two times the specification it was designed for," Jennifer Latka, head of the F135 engine for P&W, tells FlightGlobal. "Over time, all of those systems coming onto the jet require more cooling air to be pulled off the engine to power them."
Latka insists the F135 can handle the increased load, but says additional demand substantially drives up fleet-sustainment costs. "It's not a capability thing. It's a cost thing," she says. "When the engine is running hotter, which is what happens when you're pulling more of the air off of it, it needs maintenance sooner."
The Pentagon's top F-35 programme officer, USAF Lieutenant General Eric Fick, confirms that assessment.
"From a power and cooling perspective, twice the power and cooling of the engine… has negative impacts on engine life," Fick said in March. "It forces us to turn up the wick on the engine, to burn it hotter, which then will decrease the amount of time… between engine overhauls."
SEEKING A SOLUTION
With the F-35's power demands expected to increase, Pentagon leaders asked the defence industry to the address the current engine's shortfall. The USAF funded a research initiative called the Adaptive Engine Transition Program (AETP), which in 2016 provided roughly $1 billion each to P&W and GE to develop next-generation powerplants for the F-35 and other future fighters.
In July, David Tweedie, GE Aviation Edison Works general manager for advanced combat engines, said the product of that effort, GE's XA100 engine, will be ready to power F-35s by end-decade.
GE estimates its XA100 could save the US government $10 billion if installed on USAF F-35As. It also touts the XA100 as a drop-in option, saying F-35As and Cs would need no structural redesign. Tweedie says the system will provide 30% more range and 20-40% more acceleration.
But, the XA100 may not support the F-35B short take-off and vertical landing (STOVL) model, which Tweedie notes was outside the AETP design requirements and presents "unique integration challenges". GE says it is studying a potential F-35B integration, and plans to have initial data by the autumn. Based on procurement plans, STOVL F-35s will ultimately represent around 20% of the USA's F-35 fleet.
P&W, meanwhile, is developing its XA101 engine for the AETP programme. But P&W is also pitching what it calls a cheaper, quicker solution to the F135 engine problem: an upgraded core.
The core upgrades, called the Enhanced Engine Package (EEP), will provide substantially more power at far less cost through improvements to the F135's power and thermal management system (PTMS), P&W says. Updates include changes to the high-pressure compressor, high-pressure turbine, low-pressure turbine and augmentor, resulting in better performance, fuel burn and thrust, it says.
"The F135 EEP upgrade maintains significant commonality with the current F135 engine and can easily be cut into production as well as retrofit into the fleet during regular scheduled overhauls," P&W tells FlightGlobal.
Without providing specifics, Latka says the EEP can provide PTMS performance beyond what Pentagon leaders say will be needed. "That way, we don't run into this issue all over again in 10 years."
She notes the EEP option would be "tri-variant common", meaning compatible with F-35A, B and C variants.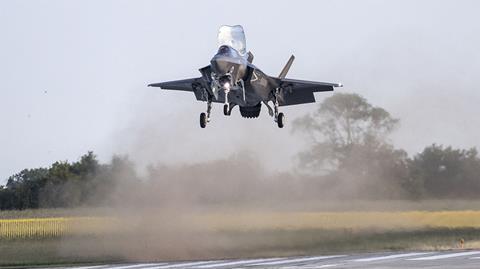 Latka argues against a new engine, saying "bifurcating" the F-35 fleet with multiple engines would add billions of dollars in additional sustainment costs. She argues that AETP designs should be considered for subsequent, sixth-generation fighters concepts, like the USAF's Next Generation Air Dominance programme.
Excluding development expenses, the EEP will not increase the cost of the USA's F-35 programme, P&W says. It estimates the update will produce $40 billion in savings through 2080, the projected lifespan of the F-35 programme, with most savings resulting from reduced maintenance costs and better fuel efficiency.
Latka calls the EEP upgrade a "drop-in retrofit" that can be installed much faster than a new engine, saying P&W can outfit six F-35 squadrons with EEPs by 2030.
The US Navy and US Marine Corps have shown little interest in a new engine for the F-35. The USAF appears to be the service most inclined toward a new powerplant, but Secretary of the Air Force Frank Kendall has noted that it would be difficult for his service to implement the change alone.
The Pentagon is expected to make a decision on the future of F-35 propulsion sometime in 2024.