L3Harris Technologies has flown for the first time its EC-37B Compass Call electronic warfare aircraft.
Based on the Gulfstream G550 business jet, the EC-37B is intended to replace the US Air Force's ageing fleet of Lockheed EC-130H turboprop aircraft. L3Harris is working on initial modifications at an unnamed Gulfstream facility where the initial flight recently occurred, it said on 6 October.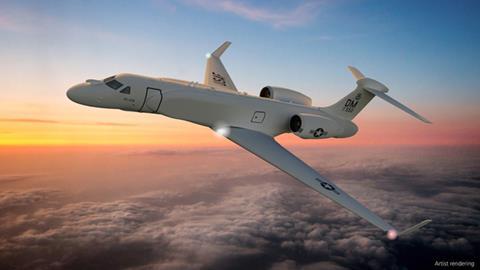 The electronic warfare system is already used on the EC-130H and will be transferred to the EC-37B. That system, made by BAE Systems, is designed to make it harder for an adversary to coordinate during a battle by disrupting and jamming their command and control communications, radars, and navigation systems.
"The weapon system supports the suppression of enemy air defences by preventing the transmission of essential information between adversaries, their weapon systems, and control networks," says BAE.
The EC-37B will have a modular open system architecture, which L3Harris says "enables rapid integration of new technology and reduces overall cost of future upgrades".
The EC-130H, based on the C-130 transport, has a cruise speed of 261kt (482km/h) and a range of 1,990nm (3,690km) – significantly slower and shorter than its business jet successor. The G550, upon which the EC-37B is based, has a cruise speed of 567kt and a 5,300nm range.
"The G550 has increased speed, endurance and extended stand-off range over the legacy EC-130H aircraft – providing significantly improved survivability," says L3Harris.