Leonardo will deliver the first example of its C-27J Next Generation tactical transport to an unnamed customer in 2021, with improvements including the addition of performance-enhancing winglets.
The Italian company on 11 November issued a first image of the new variant, showing the completed but unpainted twin-turboprop as it commenced final testing.
"The performance and reliability of the C-27J Spartan continues to evolve as the best response to its customers' needs," Leonardo says. The updated model also features new avionics, navigation and communications equipment, which the company says will ensure compliance with next-generation air traffic control requirements.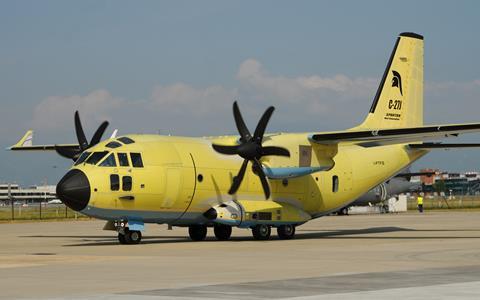 A new weather radar, replacement cockpit and cargo-section displays, plus LED lighting are among other new features.
The addition of winglets, meanwhile, will "enhance the existing high performance of the aircraft" under challenging environmental conditions and while operating from unprepared landing strips, the company says.
"The enhanced C-27J brings the unrivalled quality and capabilities of the Spartan to the next, higher level," says Leonardo Aircraft managing director Marco Zoff. "Its operators will benefit from modern avionics, increased performance and efficiency."
Due to take two examples, the lead recipient for the enhanced C-27J is unknown, with the company having no outstanding confirmed orders for the model.
Leonardo says the new baseline configuration is also being offered to existing Spartan operators as a retrofit option for their in-service assets.
Cirium fleets data shows that there are 85 C-27Js in current active use, including 14 flown by the US Coast Guard. Military customers are Australia (10), Bulgaria (3), Chad (2), Greece (8), Italy (12), Kenya (3), Lithuania (3), Mexico (4), Morocco (4), Peru (4), Romania (7), Slovakia (2), the US Army (7), and Zambia (2).
According to Cirium, further interest in the Spartan exists with Slovakia, Peru and Taiwan, with previous letters of interest covering a potential combined 15 units.
In addition to performing military transport duties, Leonardo points to the C-27J's proven versatility in supporting operator nations' response to the coronavirus pandemic this year.
"It is the only aircraft capable to reach people in the most remote rural areas of their nations," Zoff notes.