Aerospace manufacturer Lockheed Martin has started producing F-35 advanced strike fighters bound for Poland.
The defence giant said on 12 April it has begun work on a component for one of the F-35 fifth-generation fighters ordered by Poland in 2020.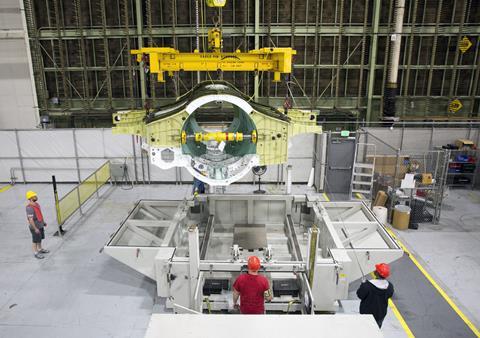 "The first F-35s for Poland will be delivered to the Polish air force in 2024, and deliveries will continue through 2030," Lockheed says. "Poland's first F-35s will arrive in-country at Lask air base in 2026."
Poland is under contract with Lockheed to purchase 32 F-35As.
The centre fuselage wing assembly (CWA) is the first component of the Polish F-35s to enter production, according to Lockheed. The company says that section represents approximately one-quarter of the aircraft's total final fuselage.
Wings will later be attached to the CWA during final assembly in Fort Worth, Texas.
The milestone comes as Polish prime minister Mateusz Morawiecki visits the USA – a trip that includes a stop at Lockheed's factory in Marietta, Georgia, where it produces F-35 CWAs.
Poland is in the midst of a defence spending boom, with fighter aircraft being a top priority. In addition to the 32 F-35s, Warsaw plans to acquire 48 Korea Aerospace Industries FA-50 light fighters to modernise its fleet – currently based around Soviet bloc MiG-29 combat jets and Lockheed F-16s.
Warsaw has set an ambitious spending plan that by one measure would surpass all other members of the NATO military alliance.
The Polish government's consul general in New York City recently told FlightGlobal that Warsaw intends to raise its military spending to the equivalent of 4% of its gross domestic product (GDP) by the end of 2023.
If achieved, that would put Poland as the top military spending member of NATO, relative to the size of its domestic economy.
Non-binding NATO guidelines specify that member states should aim for their defence spending to equal at least 2% of their GDP – with at least 20% of military spending used to procure equipment.