Northrop Grumman will not bid to develop the US Air Force's (USAF's) sixth-generation fighter programme, known as Next Generation Air Dominance (NGAD).
Chief executive Kathy Warden made public the decision regarding the stealth fighter programme on 27 July during Northrop's second-quarter earnings call.
"We have notified the US Air Force that we are not planning to respond to the NGAD [request for proposal] as a prime" contractor, Warden says.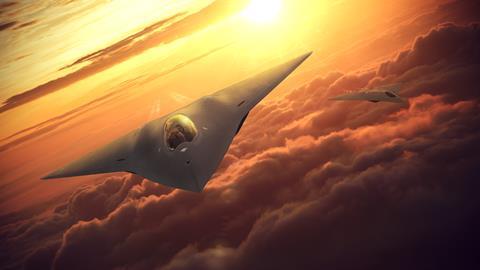 The announcement is a significant development for the programme, as major players in American defence have previously declined to address their participation. Northrop's experience designing stealthy aircraft, including the B-2 Spirit bomber and next-generation B-21 strategic bomber, seemingly made the company a contender for the NGAD development programme.
However, Warden says Northrop does not feel another new development programme is the right strategic move.
"We are remaining disciplined in assessing the right programmes to pursue," she notes. "Ones where we feel we're well positioned with mature offerings, and where the business deal presents an appropriate balance of risk and reward."
Northrop is currently in the costly engineering and design phase for the B-21. The company has warned it may post short-term losses on those contracts before moving into the more-lucrative production stage contracts.
Space has been Northrop's major growth sector, and increasingly where the company is investing resources. Northrop's space segment has consistently posted double-digit sales growth – showing a 17% year-on-year increase in the second quarter.
Warden says the NGAD decision will not impact sales or growth targets at Northrop, which is pursuing "other opportunities in military aircraft".
With Northrop bowing out of the sixth-generation fighter competition, only a short list of potential suppliers remain.
Currently, Boeing and Lockheed Martin are the manufacturers of crewed fighter platforms in the USA – and only Lockheed is actively producing a stealth aircraft: the fifth-generation F-35 strike fighter.
One of those defence manufacturers is almost certain to be the eventual prime contractor for NGAD, but executives at both have been coy, declining to directly address plans for participation.
"We continue to invest in areas of our business that are important to us across the spectrum," Ted Colbert, chief executive of Boeing's defence unit, told FlightGlobal in June.
"We continue to invest in next-generation fighters," he adds, referencing the MQ-25 and MQ-28 autonomous jets and the F-15EX fourth-generation fighter.
Lockheed CEO Jim Taiclet in April said his company is discussing with the Pentagon technologies adjacent to NGAD, such as pairing autonomous jets with crewed fighters. He did not specifically address Lockheed's participation.
"We're working with government through our Skunk Works operation on what the options are there," he said during Lockheed's first-quarter earnings call in April.
The USAF issued the official industry solicitation for NGAD in May. The service released a classified request for proposal to the aerospace industry for an engineering and manufacturing design contract for the secretive aircraft-development effort.
"NGAD will include attributes such as enhanced lethality and the ability to survive, persist, interoperate and adapt in the air domain, all within highly contested operational environments," air force secretary Frank Kendall said in marking the milestone.
Although it appears the main contract will not go to Northrop, that company will likely be involved as a subcontractor.
"We are responding to other bidders' requests for proposal as a supplier," Warden says, adding that those bids relate to mission systems.
The USAF expects to select the NGAD designer in 2024.