Assembly of the final Boeing T-7A Red Hawk jet prototype has been completed at a company facility in St Louis, Missouri, Boeing said on 16 June.
Five prototypes of the US Air Force's (USAF's) next-generation training jet are being delivered by Boeing under the engineering and manufacturing development (EMD) phase of the production contract.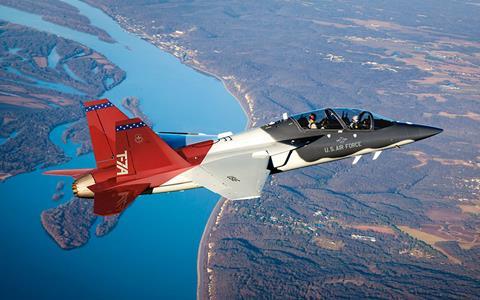 Boeing was awarded a $9.2 billion USAF contract in 2018 to deliver 351 of the single-engined jets.
"We're excited to begin building the first trainer jets future [US] Air Force pilots will fly," says Boeing vice-president for T-7 programmes Paul Niewald.
Swedish aerospace manufacturer Saab built the aft fuselage sections of the T-7A prototypes at its factory in Linkoping. As part of the manufacturing process, Saab says that Boeing splices together the forward and aft sections of the aircraft.
Following that connection, the Red Hawk's wings, fins and tail are assembled, Saab said in a 16 June release.
Following completion of the EMD testing phase, Saab will shift production of its T-7A components to a factory in West Lafayette, Indiana. The company's US headquarters is in Syracuse, New York.
The T-7A represents Boeing's first attempt at a digitally-driven aircraft manufacturing process, incorporating computer modelling and simulations into both design and production.
"Developed with an engineering approach based on digital models, the T-7A represents a revolutionary approach to developing aircraft," says Jonas Hjelm, head of Saab's Aeronautics business area.
Boeing says the so-called "digital tread" techniques lower cost and improve efficiency. The company notes that assembly of the final T-7A forward and aft section was completed in 30min – a process that previously could have required multiple days.
Despite the purported benefits of digital production, the T-7 programme has suffered from delays and cost overruns.
A recent US Government Accountability Office report notes that the T-7 "did not fully mature" critical technical systems, including the emergency ejection system, before starting product development.
Boeing acknowledges that it is liable for at least $367 million in cost overruns on the T-7 programme, which the company blames on pandemic-related labour and supply constraints.
The US aerospace giant crafted its T-7 bid as a low-cost firm fixed-price contract, which can leave the supplier responsible for cost increases.