The US Air Force (USAF) has formally launched its search for a replacement for the Boeing E-3G Sentry Airborne Warning and Control System (AWACS).
The service issued a request for information on 8 February seeking potential industry partners to deliver two production representative AWACS prototypes, including ground support and training systems, within five years after an expected fiscal year 2023 contract award.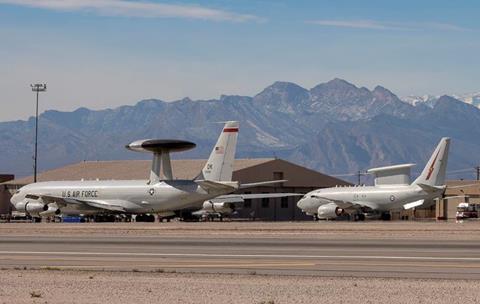 Secretary of the USAF Frank Kendall said in December that the service is looking for a stopgap AWACS aircraft until it can develop and field a space-based AWACS system. General Charles Brown, chief of staff of the USAF, said in September that the service was considering the Boeing E-7 Wedgetail to replace the E-3 AWACS.
The USAF wants its next AWACS aircraft to provide command and control to its combat air forces. It is to carry a multi-mode airborne moving target indication radar, as well as line of sight and beyond line of sight communications equipment.
The service wants to know if potential AWACS aircraft can conduct at least six command and control missions simultaneously: offensive counter air, defensive counter air, air traffic control, close air support, suppression of enemy air defenses, air refuelling, and combat search and rescue. It also wants the aircraft to be able to conduct radar-based maritime surveillance missions.
AWACS candidates are likely to come with a large active electronically scanned array (AESA) radar. Unlike older radar systems using mechanically pivoting arrays, AESA radars electronically steer individual antennae, allowing the system to transmit in different directions – and at different frequencies – simultaneously. It also allows for the rapid and simultaneous detection of multiple threats.
The USAF wants a "radar design that maintains a 360-degree (azimuth) surveillance picture and is able to perform airborne and maritime surveillance and tracking with variable revisit rates and variable track updates". The service wants to be able to maintain that surveillance picture "while providing electronic steering to isolate targets of interest".
To make sense of all of the information gathered by the AWACS' radar, the USAF is interested in "sensor data processing, correlation, and fusion".
The AWACS is to have a boom receptacle for in-flight refueling. It is also to carry an M-Code GPS.
The Sentry, the USAF's current AWACS aircraft, is a Boeing 707-320 commercial airframe with a rotating radar dome on top. The aircraft is slow-moving, easy-to-spot on radar and the radio waves it emits also give away its position. The USAF has 31 examples of the E-3 in its fleet.
It is not clear how many AWACS aircraft the USAF wants to buy. Previously it has expressed interest in the E-7 because the aircraft is already in production and is being operated by several air forces.
The E-7 is based on the 737NG commercial airliner. It carries a fixed, fin-like Northrop Grumman AESA radar antenna atop its fuselage.
The Royal Australian Air Force operates six examples of the Wedgetail, and the South Korean and Turkish air forces operate four each. The UK Royal Air Force has also ordered three.