The US has struck ground targets in eastern Syria, in apparent retaliation for attacks on American bases in the region that injured more than 20 US personnel.
Without revealing how it carried out the kinetic operation, the Pentagon on 26 October said it used precision munitions to hit two sites in Syria used by Iran's Islamic Revolutionary Guard Corps (IRGC) and affiliated militant proxy groups.
"These precision self-defence strikes are a response to a series of ongoing and mostly unsuccessful attacks against US personnel in Iraq and Syria by Iranian-backed militia groups," US defense secretary Lloyd Austin said at 22:30h local time in Washington.
The Syria strikes occurred in the early hours of 27 October local time.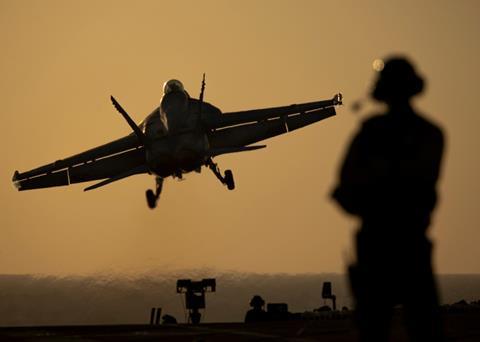 The 12 separate attacks on American bases, which began on 17 October and featured both rockets an uncrewed aerial vehicles, resulted in minor injuries to 21 US personnel, according to the Pentagon. One contractor died of cardiac arrest while sheltering in place during a rocket attack.
The American operation was carried using two Lockheed Martin F-16 fighters, which struck near the Syria-Iraq border.
The US military has surged air power into the region since the 7 October attack into Israel by Palestinian militant group Hamas that killed some 1,400 Israelis. Tel Aviv's subsequent declaration of war and bombing campaign has killed thousands more in Gaza, raising concerns of a wider Middle East war as Israel prepares for a ground invasion.
In response, the Pentagon has moved two US Navy aircraft carriers into the eastern Mediterranean and several ground-based US Air Force squadrons, including Fairchild Republic A-10 ground attack jets and Boeing F-15 multi-role fighters.
Each aircraft carrier strike group includes multiple squadrons of Boeing F/A-18 Super Hornet strike fighters, accompanied by several smaller ships equipped with dozens of long-range precision missiles.
Austin says the US "does not seek conflict" with Iran or any other actors in the region, but will continue to take lethal action in what Washington describes as self defence.
"If attacks by Iran's proxies against US forces continue, we will not hesitate to take further necessary measures to protect our people," Austin says.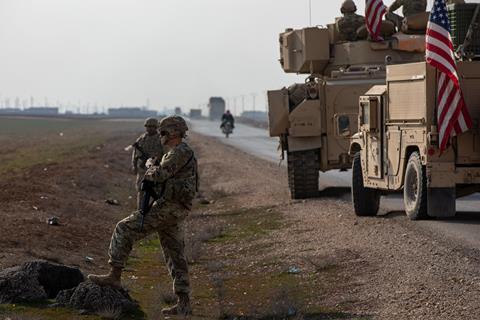 Tehran did not immediately address the US strikes against proxy groups in Syria, which the theocratic government describes as "resistance forces".
However, Iran's Tasim News Agency – which the US government says is controlled by Tehran and the IRGC – acknowledged the American strikes and revealed details of the precipitating attacks by Iranian-backed groups.
"The US military base in Al-Omar oil field in eastern Syria was hit by 10 missiles at 6:05 am local time on [27 October] in response to the US' recent terrorist attack on the positions of the resistance forces in Syria," Tasim said on 27 October, in what the agency claims is an exclusive report.
Separately, the Iranian foreign minister on 27 October doubled down on support for Hamas – whom Tehran provides funding – during a speech to the United Nations General Assembly in New York.
"The Islamic Republic Iran believes in the right of the Palestinian nation to resist against occupation," Hossein Amirabdollahian says.
In remarks delivered just hours before the American retaliatory strikes in Syria, Amirabdollahian threatened the US with further military action, should Washington continue to support Israel's operations in the Palestinian enclave of Gaza.
"I say frankly to the American statesmen and military forces who are now managing the genocide in Palestine, that we do not welcome the expansion and scope of the war in the region, but I warn if the genocide in Gaza continues, they will not be spared from this fire," Tehran's top diplomat says.
Although the US has pressured Israel to allow humanitarian aid to enter Gaza, Washington shows no sign of reducing support for Israel.
The Pentagon continues to flow forces into the region, including air defence units operating the Raytheon MIM-104 Patriot, Boeing AN/TWQ-1 Avenger and Lockheed Martin's Terminal High Altitude Area Defense platforms.
Department of Defense press secretary Brigadier General Pat Ryder on 26 October said 900 US personnel are preparing to deploy to the Middle East "to support regional deterrence efforts and further bolster US force protection capabilities".
Ryder says the US will also send two Iron Dome air defence systems directly to Israel. That system was developed by Rafael and Israel Aerospace Industries, with financial support from the Pentagon.
US Army General James Rainey, who commands Army Futures Command, on 9 October confirmed the Pentagon currently has two operational Iron Dome batteries.
Speaking during the annual Association of the US Army conference in Washington DC, Rainey said the army's Iron Domes were deployed to undisclosed locations.
Raytheon parent company RTX on 26 October announced a partnership with Rafael to develop a manufacturing plant in East Camden, Arkansas that will produce Tamir missiles for the Iron Dome and the US variant of the system, known as SkyHunter.
RTX says SkyHunter missiles will be produced for the US Marine Corps under the Medium Range Intercept Capability programme.