American air power is on display across the Middle East in response to a growing number of direct attacks against US forces in the region.
Ground troops at US bases in Syria and Iraq have repeatedly come under fire from rockets and explosively-armed uncrewed air vehicles (UAVs) launched by militant groups tied to Iran.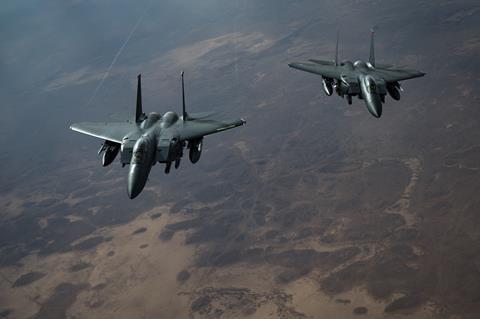 Separately on 8 November, a US Air Force (USAF) General Atomics Aeronautical Systems MQ-9 Reaper UAV was shot down off the coast of Yemen. That action was carried out by Iranian-backed Houthi rebels in Yemen, according to a senior Pentagon official speaking on background.
In response to the shelling in Syria, US President Joe Biden on 8 November launched a lethal strike against what Washington describes as an ammunition storage facility in eastern Syria, using two USAF Boeing F-15 fighters.
US Central Command, which oversees Middle East operations, confirmed the strike on 8 November.
"We will take all necessary measures to defend our people against those who are responsible for the attacks and will respond at a time and place of our choosing," the Tampa, Florida-based command says.
The Pentagon asserts the targeted site was being used by an irregular warfare unit of the Iranian Revolutionary Guard Corps (IRGC), known as the Quds Force, and proxy militias in Syria.
"This precision self-defence strike is a response to a series of attacks against US personnel in Iraq and Syria by IRGC-Quds Force affiliates," the Pentagon said, also on 8 November.
The latest strikes follow similar action taken by Washington on 27 October, carried out by Lockheed Martin F-16 fighters.
There have been at least 40 separate UAV and rocket attacks on US forces in Syria and Iraq in recent weeks. At least two dozen American personnel have sustained minor injuries, according to the Pentagon. One contractor died of cardiac arrest during a rocket attack.
The surge in offensive activity was prompted by US support for Israel's ongoing bombardment and invasion of the Palestinian-controlled Gaza Strip.
That operation was the result of the 7 October terrorist attack by Palestinian militant group Hamas that killed some 1,400 Israelis. More than 10,000 Palestinians are believed to have died in the ensuing conflict.
Washington has repeatedly expressed unwavering support for Israel, while pressuring Tel Aviv to address the issue of civilian casualties and internal displacement.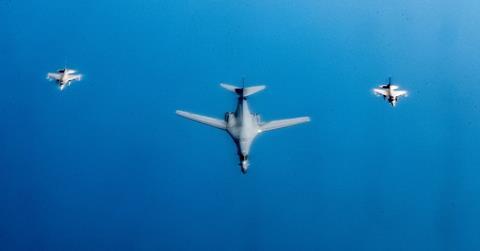 Defense secretary Lloyd Austin on 9 November said the US would continue to retaliate against any Middle East actors engaged in hostilities against its forces, actions the Pentagon has characterised as self-defence.
"We remain fully prepared to take further necessary measures to protect our people and our facilities, and we urge against any escalation," Austin said while en-route to India for an official visit.
Austin sought to distance the recent US military action from the conflict in Gaza, saying the strikes are intended to prevent hostilities against American forces.
"These are defensive strikes," the former army general says. "They are not connected to what Israel is doing in its efforts against Hamas."
Washington has surged air power into the Middle East region since the 7 October surprise attack by Hamas. Two aircraft carrier strike groups are operating in the eastern Mediterranean, each carrying four squadrons of multi-role strike fighters.
Ground-based fighter assets from the USAF have also flowed into the region, including Fairchild Republic A-10 ground attack jets and the F-15 strike fighters.
Central Command has also confirmed two overflight missions by long-range Boeing B-1B heavy bombers in recent days, with the latest occurring on 8 November.
"For the second time in three days, a US B-1 Lancer conducted a mission over the US Central Command area of responsibility," the Middle East command says, noting the variable geometry bomber was escorted by two USAF F-16s.
The first B-1 mission occurred on 5 November, which included in-flight refuelling with a Boeing KC-135 tanker.
"The mission was designed to build agility and interoperability between the US and partners while demonstrating the ability of the US military to respond to crises and contingencies across theatres," Central Command says.
Military officials did not specify whether B-1s were involved in the combat strikes, although such language is typically used to describe exercises and training manoeuvres.